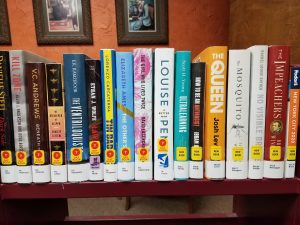 Serious topics are on this week's shelf of new books including domestic violence, impeachment, and mosqitoes which have had a deadly impact on humanity through the ages, along with the latest from Louis Penny, Danielle Steel, and David Lagercrantz.
The Beekeeper of Aleppo by Christy Lefteri
A beekeeper and his artist wife have their lives upended and must flee after war destroys their home in Aleppo, Syria, and they set off on a dangerous journey through Turkey and Greece, towards an uncertain future in England.
Beneath the Attic by V. C. Andrews
After becoming pregnant and marrying in to the Foxworth family in 1890, Corrine Dixon discovers nothing is what it seems on the family's labyrinthine estate.
A Better Man by Louise Penny
Searching for a missing woman amid a catastrophic flood and blistering social media attacks, a demoted Armand Gamache bonds with the victim's distraught father, who contemplates a murder of his own.
The Dark Side by Danielle Steel
When Zoe Morgan falls in love and has her own child, she is determined to be a perfect mother, but before long, old scars long dormant begin to pull Zoe to the edge of an abyss too terrifying to contemplate.
Fodor's New York 2020 by Fodor's Travel Guides
Fodor's New York City, with color photos throughout, captures the universal appeal of the city's world-renowned museums, iconic music venues, Broadway spectacles, and, of course, gastronomic delights.
The Girl Who Lived Twice by David Lagercrantz
Determined to confront her nemesis, Lisbeth Salander closes in on her target to settle lifelong scores, while Mikael Blomkvist attempts to track her down and protect her, in spite of the fact that he is powerless against her enemies.
How to be an Antiracist by Ibram X Kendi
A best-selling author, National Book Award-winner and professor combines ethics, history, law and science with a personal narrative to describe how to move beyond the awareness of racism and contribute to making society just and equitable.
The Impeachers: the Trial of Andrew Johnson and the Dream of a Just Nation by Brenda Wineapple
An account of the impeachment of Andrew Johnson shares insights into the his disregard of Congress, opposition to civil rights, and anti-Reconstruction stance, exploring the roles of such impeachment contributors as Ulysses S. Grant and Thaddeus Stevens.
Kill Zone by Kevin J. Anderson
Tasked with performing a high-level security review of a Cold War weapons facility-turned-nuclear waste storage site, a small team of experts becomes trapped on an overextended site on the brink of a radioactive meltdown.
The Mosquito: A Human History of Our Deadliest Predator by Timothy C. Winegard
Follows the history of the nefarious and pesky mosquito and its impact on humanity throughout the ages and around the globe, explaining how the tiny insect influenced the results of wars, colonization and the modern world order.
No Visible Bruises by Rachel Louise Snyder
An award-winning journalist and expert guest explores America's epidemic of domestic violence and how it has been misunderstood, sharing insights into what domestic violence portends about other types of violence and what countermeasures are needed today.
The Other's Gold by Elizabeth Ames
College roommates Lainey, Ji Sun, Alice, and Margaret become inseparable friends, but as they progress from college to adulthood, each of them makes a terrible mistake that forces their friendships to evolve.
The Queen: The Forgotten Life Behind an American Myth by Josh Levin
Levin provides an account of the life of one of America's most notorious welfare cheats, who committed much darker crimes, and who became the figure behind the myth of the "welfare queen."
Tin Badges by Lorenzo Carcaterra
Retired NYPD detective Tank Rizzo becomes guardian to his orphaned, teenage nephew who reveals an interest in true crime and stunning computer skills and must debate involving his young charge in an effort to take down a notorious drug dealer.
The Ventriloquists by E. R. Ramzipoor
Helene's world changes when she befriends a rogue journalist, Marc Aubrion, who draws her into a secret network that publishes dissident underground newspapers.