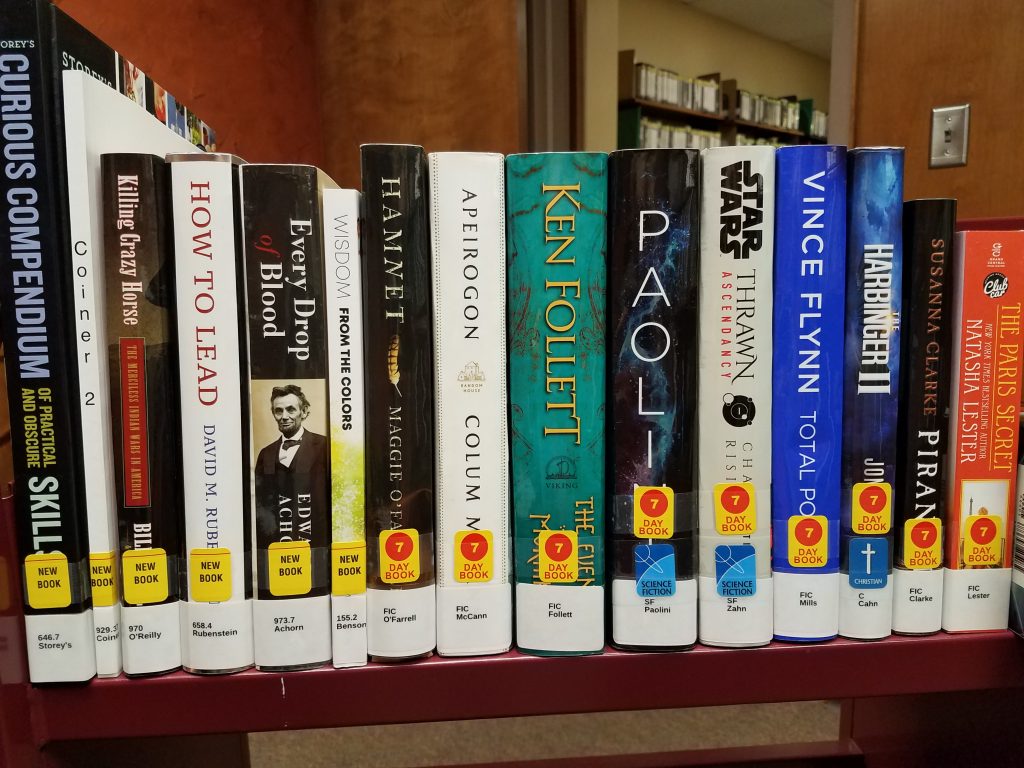 Maggie O'Farrel won this year's Women's Prize for Fiction for her book about Shakespeare's son, Ken Follett adds another tale that precedes the Pillars of the Earth, and former Miami native Vanessa Lillie provides another spine-tingling thriller which highlights only three of the great reads on this week's cart.
Apeirogon by Colum McCann
Bassam is Palestinian and Rami is Israeli, but when their world of intractable conflict results in the death of each of their daughters, their loss connects them and they become part of a much larger tale that ranges over centuries and continents.
The Evening and Morning by Ken Follett
In 997 CE, the turbulent end of the Dark Ages, three characters find their lives intertwined in a prequel to The Pillars of the Earth.
For the Best by Vanessa Lillie
After struggling for years to build the perfect family and career, Jules Worthington-Smith is dangerously close to losing everything when her wallet is found next to a dead man and she becomes the prime suspect in his murder.
Hamnet by Maggie O'Farrell
A luminous portrait of a marriage, a shattering evocation of a family ravaged by grief and loss, and a tender and unforgettable re-imagining of a boy whose life has been all but forgotten, and whose name was given to one of his father's most celebrated plays.
The Harbinger II: The Return by Jonathan Cahn
When Nouriel, Ana Goren, and the Prophet return, they come with mysteries to be unlocked through the giving of ancient seals, and they also bring dreams and a little girl as mysterious as the prophet.
How to Lead: Wisdom from the World's Greatest CEOs, Founders, and Game Changers by David Rubenstein
Learn the principles and guiding philosophies of Bill Gates, Jeff Bezos, Ruth Bader Ginsburg, Warren Buffett, Oprah Winfrey, and many others through illuminating conversations about their remarkable lives and careers.
Killing Crazy Horse: The Merciless Indian Wars in America by Bill O'Reilly
A gripping journey through the American West and the historic clashes between Native Americans and settlers.
The Paris Secret by Natasha Lester
A historical novel about a secret collection of Dior gowns that ties back to the first female pilots of WWII and a heartbreaking story of love and sacrifice.
Piranesi by Susanna Clarke
Piranesi's house which he lives to explore is an astonishing new world, an infinite labyrinth, full of startling images and surreal beauty, haunted by the tides and the clouds.
Star Wars: Thrawn Ascendancy: Chaos Rising by Timothy Zahn
As Thrawn's first command probes deeper into the vast stretch of space his people call the Chaos, he realizes that the mission he has been given is not what it seems.
Storey's Curious Compendium of Practical and Obscure Skills
by How-To Experts at Storey Publishing
Anyone curious about the myriad ways people have taught themselves to make, grow, and build things will find everything they've ever wondered about in this colorful, inviting volume.
Transcendent Kingdom by Yaa Gyasi
A deeply moving portrait of a family of Ghanaian immigrants ravaged by depression and addiction and grief–a novel about faith, science, religion, love.
To Sleep in a Sea of Stars by Christopher Paolini
During a routine survey mission on an uncolonized planet, Kira's elation at finding an alien relic turns to terror when the ancient dust around her begins to move.
Total Power by Vince Flynn
It's a race against the clock when ISIS takes out the entire US power grid and throws the country into chaos.