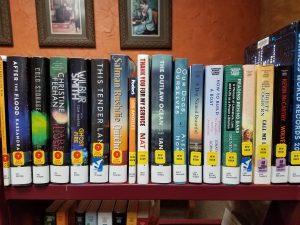 After the Flood by Kassandra Montag
A tale set in an anarchic near-future America of mountaintop colonies surrounded by rising oceans finds an independent woman trading for supplies and information about the daughter who was stolen from her eight years earlier.
Cold Storage by David Koepp
A debut novel by the screenwriter of Jurassic Park follows the desperate mission of a Pentagon bioterror operative and two unwitting security guards to contain a highly contagious, deadly organism.
Dark Illusion by Christine Feehan
Fleeing her controlling family to warn the Carpathians of an imminent threat, mage Julia Brennan resists her explosive connection to centuries-old warrior Isai Florea, who recognizes her as his lifemate.
Fodor's Los Angeles by Fodor's Travel Guides
Fodor's Travel Guides Detailed and timely information on accommodations, restaurants and local attractions highlight these travel guides, which feature a dramatic visual design, symbols to indicate budget options, must-see ratings, multi-day itineraries, Smart Travel Tips, helpful bulleted maps and much more.
Ghost Fire by Wilbur Smith
Torn apart by their parents' death, Theo seeks redemption in the British military during the French Indian War, while his sister makes her way from abusive guardians into France's high society, before being lead to the French battlefield in North America.
Guinness World Records 2020 by Guinness World Records
The world's most popular record book is back with thousands of new categories and newly broken records, covering everything from outer space to sporting greats via Instagram, fidget spinners and all manner of human marvels.
The Lake of Learning by M. J. Rose
Cassiopeia Vitt is building an authentic French castle, but when a treasure is unearthed at the construction site a multitude of questions are raised, all pointing to an ancient and forgotten religious sect.
Our Dogs, Ourselves: The Story of a Singular Bond by Alexandra Horowitz
The best-selling author of Inside of a Dog examines the complex interspecies pairing that has bonded humans and dogs, tracing the contradictions, from breeding to abandonment, that mark present-day human-canine relationships.
The Outlaw Ocean: Journeys Across the Last Untamed Frontier by Ian Urbina
A Pulitzer Prize-winning New York Times investigative reporter profiles the rampant criminal and exploitative activities of the world's unmonitored ocean regions, uncovering a vast global network of industry corruption, piracy and trafficking.
Quichotte by Salman Rushdie
Quichotte, an aging traveling salesman obsessed with the "unreal real" of TV, falls in impossible love with a queen of the screen; while obsessively writing her love letters, he wishes an imaginary son, Sancho, into existence and together they set off across America in Quichotte's trusty Chevy Cruze to find her and convince her of his love.
Thank You for My Service by Mat Best
A memoir from an five-tour Army Ranger who became a YouTube phenomenon follows him from Columbus, Georgia, to Ramadi and offers front-line action as well as comfort and counsel in the form of humor while he advocates for veterans.
This Tender Land by William Kent Krueger
Fleeing the Depression-era school for Native American children who have been taken from their parents, four orphans share a life-changing journey marked by struggling farmers, faith healers, and lost souls.