Sequoyah High School Masterlist 2021
1. With The Fire on High by Elizabeth Acevedo
Ever since she got pregnant freshman year, Emoni Santiago's life has been about making the tough decisions—doing what has to be done for her daughter and her abuela. The one place she can let all that go is in the kitchen, where she adds a little something magical to everything she cooks, turning her food into straight-up goodness. Even though she dreams of working as a chef after she graduates, Emoni knows that it's not worth her time to pursue the impossible. Yet despite the rules she thinks she has to play by, once Emoni starts cooking, her only choice is to let her talent break free.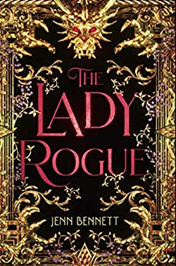 2. The Lady Rogue by Jenn Bennett
Traveling with her treasure-hunting father has always been a dream for Theodora. She's read every book in his library, has an impressive knowledge of the world's most sought-after relics, and has all the ambition in the world. What she doesn't have is her father's permission. That honor goes to her father's nineteen-year-old protégé—and once-upon-a-time love of Theodora's life—Huck Gallagher, while Theodora is left to sit alone in her hotel in Istanbul. Until Huck returns from an expedition without her father and enlists Theodora's help in rescuing him. Armed with her father's travel journal, the reluctant duo learns that her father had been digging up information on a legendary and magical ring that once belonged to Vlad the Impaler—more widely known as Dracula—and that it just might be the key to finding him.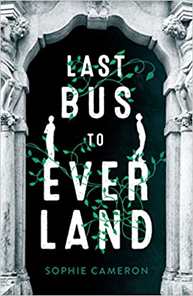 3. Last Bus to Everland by Sophie Cameron
Brody Fair feels like nobody gets him: not his overworked parents, not his genius older brother, and definitely not the girls in the projects set on making his life miserable. Then he meets Nico, an art student who takes Brody to Everland, a "knock-off Narnia" that opens at 11:21pm each Thursday for Nico and his band of present-day misfits and miscreants. Here Brody finds his tribe and a weekly respite from a world where he feels out of place. But when the doors to Everland begin to disappear, Brody is forced to make a decision: He can say goodbye to Everland and to Nico, or stay there and risk never seeing his family again.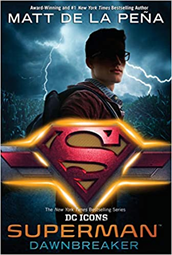 4. Superman: Dawnbreaker by Matt de la Peña
Clark Kent has always been faster, stronger–better–than everyone around him. But it's not like he's earned his powers . . . yet. Lately it's difficult to hold back and keep his heroics in the shadows. When Clark follows the sound of a girl crying, he comes across Gloria Alvarez and learns that people are disappearing from the Mexican-American and undocumented worker community in Smallville. Teaming up with his best friend, Lana Lang, Clark discovers that before he can save the world, he must save Smallville.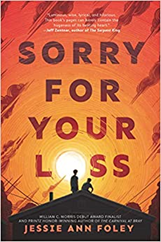 5. Sorry for Your Loss by Jessie Ann Foley
As the youngest of eight, painfully average Pup Flanagan is used to flying under the radar. He's barely passing his classes. He lets his longtime crush walk all over him. And he's in no hurry to decide on a college path. The only person who ever made him think he could be more was his older brother Patrick. But that was before Patrick died suddenly, leaving Pup with a family who won't talk about it and acquaintances who just keep saying, "sorry for your loss." When Pup excels at a photography assignment he thought he'd bomb, things start to come into focus. His dream girl shows her true colors. An unexpected friend exposes Pup to a whole new world, right under his nose. And the photograph that was supposed to show Pup a way out of his grief ultimately reveals someone else who is still stuck in their own. Someone with a secret regret Pup never could have imagined.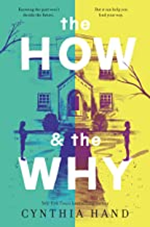 6. The How and the Why by Cynthia Hand
Cassandra McMurtrey has the best parents a girl could ask for; they've given Cass a life she wouldn't trade for the world. She has everything she needs—but she has questions, too. Like, to know who she is. Where she came from. Questions her adoptive parents can't answer, no matter how much they love her. But eighteen years ago, someone wrote Cass a series of letters. And they may just hold the answers Cass has been searching for. Alternating between Cass's search for answers and letters from the pregnant teen who placed her for adoption, this emotionally resonant narrative is the perfect read for fans of Nina LaCour and Jandy Nelson.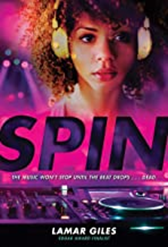 7. Spin by Lamar Giles
When rising star Paris Secord (aka DJ ParSec) is found dead on her turntables, it sends the local music scene reeling. No one is feeling that grief more than her shunned pre-fame best friend, Kya, and ParSec's chief groupie, Fuse — two sworn enemies who happened to be the ones who discovered her body.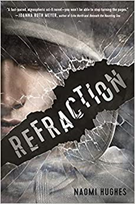 8. Refraction by Naomi Hughes
Marty Callahan still remembers the earth before the fog, before all the mirrors turned deadly. Everything changed one year ago when an alien ship was destroyed over earth. No one knows why the shattered ship covered the world in fog, or how it turned mirrors into portals for vicious monsters. All Marty knows is that his small coastal town is one of the few remaining safe havens. Though all reflective surfaces are now illegal to protect what's left of the population, mirrors still have unique uses and the demand continues to rise. Seizing the opportunity, Marty becomes a distributor in an illegal mirror trade until he's caught by the mayor's son, whose slate is far from clean. The punishment for their crimes is exile, and both of them are sent to one of the many abandoned and dangerous cities overrun by fog.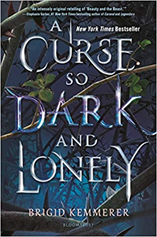 9. A Curse so Dark and Lonely by Brigid Kemmerer
It once seemed so easy to Prince Rhen, the heir to Emberfall. Cursed by a powerful enchantress to repeat the autumn of his eighteenth year over and over, he knew he could be saved if a girl fell for him. But that was before he learned that at the end of each autumn, he would turn into a vicious beast hell-bent on destruction. That was before he destroyed his castle, his family, and every last shred of hope.
Nothing has ever been easy for Harper. With her father long gone, her mother dying, and her brother barely holding their family together while constantly underestimating her because of her cerebral palsy, she learned to be tough enough to survive. But when she tries to save someone else on the streets of Washington, DC, she's instead somehow sucked into Rhen's cursed world.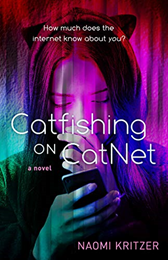 10. Catfishing on CatNet by Naomi Kritzer
Because her mom is always on the move, Steph hasn't lived anyplace longer than six months. Her only constant is an online community called CatNet—a social media site where users upload cat pictures—a place she knows she is welcome. What Steph doesn't know is that the admin of the site, CheshireCat, is a sentient A.I. When a threat from Steph's past catches up to her and ChesireCat's existence is discovered by outsiders, it's up to Steph and her friends, both online and IRL, to save her.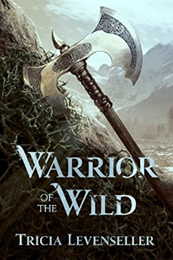 11. Warrior of the Wild by Tricia Levenseller
As her father's chosen heir, eighteen-year-old Rasmira has trained her whole life to become a warrior and lead her village. But when her coming-of-age trial is sabotaged and she fails the test, her father banishes her to the monster-filled wilderness with an impossible quest: To win back her honor, she must kill the oppressive god who claims tribute from the villages each year or die trying.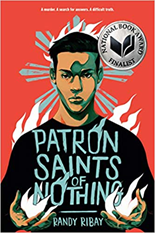 12. Patron Saints of Nothing by Randy Ribay
Jay Reguero plans to spend the last semester of his senior year playing video games before heading to the University of Michigan in the fall. But when he discovers that his Filipino cousin Jun was murdered as part of President Duterte's war on drugs, and no one in the family wants to talk about what happened, Jay travels to the Philippines to find out the real story. Hoping to uncover more about Jun and the events that led to his death, Jay is forced to reckon with the many sides of his cousin before he can face the whole horrible truth — and the part he played in it.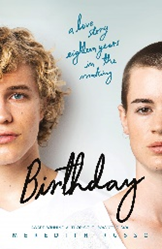 13. Birthday by Meredith Russo
ERIC: There was the day we were born. There was the minute Morgan and I decided we were best friends for life. The years where we stuck by each other's side―as Morgan's mom died, as he moved across town, as I joined the football team, as my parents started fighting. But sometimes I worry that Morgan and I won't be best friends forever. That there'll be a day, a minute, a second, where it all falls apart and there's no turning back the clock.
MORGAN: I know that every birthday should feel like a new beginning, but I'm trapped in this mixed-up body, in this wrong life, in Nowheresville, Tennessee, on repeat. With a dad who cares about his football team more than me, a mom I miss more than anything, and a best friend who can never know my biggest secret. Maybe one day I'll be ready to become the person I am inside. To become her. To tell the world. To tell Eric. But when?
Six years of birthdays reveal Eric and Morgan's destiny as they come together, drift apart, fall in love, and discover who they're meant to be―and if they're meant to be together. From the award-winning author of If I Was Your Girl, Meredith Russo, comes a heart-wrenching and universal story of identity, first love, and fate.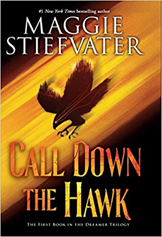 14. Call Down the Hawk by Maggie Stiefvater
Ronan Lynch is a dreamer. He can pull both curiosities and catastrophes out of his dreams and into his compromised reality.
Jordan Hennessy is a thief. The closer she comes to the dream object she is after, the more inextricably she becomes tied to it.
Carmen Farooq-Lane is a hunter. Her brother was a dreamer . . . and a killer. She has seen what dreaming can do to a person. And she has seen the damage that dreamers can do. But that is nothing compared to the destruction that is about to be unleashed.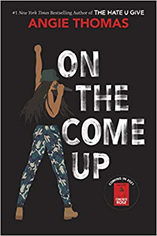 15. On the Come Up by Angie Thomas
Sixteen-year-old Bri wants to be one of the greatest rappers of all time. Or at least win her first battle. As the daughter of an underground hip hop legend who died right before he hit big, Bri's got massive shoes to fill. But it's hard to get your come up when you're labeled a hoodlum at school, and your fridge at home is empty after your mom loses her job. So Bri pours her anger and frustration into her first song, which goes viral . . . for all the wrong reasons. Bri soon finds herself at the center of a controversy, portrayed by the media as more menace than MC. But with an eviction notice staring her family down, Bri doesn't just want to make it—she has to. Even if it means becoming the very thing the public has made her out to be.