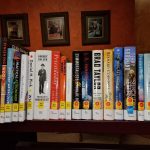 A book in the "didn't-see-it-coming plot twist" category, another in the "organizing your home by a mass purge of your stuff" category, and a book to help you make 2018 the year you finally get your finances in order are all part of this week's new books.  In addition there are books to help you learn to watercolor, add a perfect finish to a woodworking project, or understand the night sky and some book series continuations.
Beneath the Sugar Sky by Seanan McGuire
Arriving with a splash in the pond behind Eleanor West's Home for Wayward Children, Rini is informed that her mother, Sumi, died years before Rini was conceived, a baffling revelation that Rini is forced to come to terms with in order to save the world.
Blood Fury by J. R. Ward
A vampire warrior in training and her fellow aristocratic trainee struggle against the attraction they feel for one another as they prepare for a looming war.
Everyday Watercolor by Jenna Rainey
A guide to watercolor painting teaches the foundational strokes and patterns and then builds new skills upon these foundations over the course of thirty days to create finished pieces.
Finishing Wood by Editors of Fine Woodworking
This collection of articles from Fine Woodworking brings together the best information on a rich variety of finishing techniques.
Fools and Mortals by Bernard Cornwell
When a priceless manuscript goes missing, suspicion falls on Richard Shakespeare, the estranged brother of the famous author, forcing him down a perilous path through London.
Franklin D. Roosevelt: A Political Life by Robert Dallek
A portrait of the thirty-second president focuses on his career as a politician and dealmaker whose unusual skills served to unite divided factions, initiate essential reforms, and transform America into an international superpower.
The Immortalists by Chloe Benjamin
Sneaking out to get readings from a traveling psychic reputed to be able to tell customers when they will die, four adolescent siblings from New York City's Lower East Side embark on five decades of experiences shaped by their determination to control fate.
New Minimalism: Decluttering and Design by Cary Telander Fortin
A professional decluttering and design team helps readers turn their homes into a beautifully designed spaces that feel clean and tidy without being sparse or prescriptive.
Operator Down by Brad Taylor
Veteran operator Pike Logan and his team embark on a high-risk search for an undercover Mossad agent, only to stumble on a ruthless military coup in Africa, a situation that tests his Taskforce loyalties.
The Perfect Nanny by Leeila Slimani
A U.S. release of an award-winning best-seller from Morocco follows the relationship between a working French-Moroccan couple and their too-good-to-be-true nanny, whose devotion to their children spirals into a psychologically charged cycle of jealousies, resentments and violence
The Power by Naomi Alderman
When a new force takes hold of the world, people from different areas of life are forced to cross paths in an alternate reality that gives women and teenage girls immense physical power that can cause pain and death.
The Practical Astronomer by Will Gater
A complete introduction to observing and understanding the night sky, explaining and demystifying stargazing to recognize objects and explain how they move through the sky over the night and the year.
Priestdaddy: A Memoir by Patricia Lockwood
The author shares her memories of life with a Catholic priest for a father, and how as an adult, she and her non-religious husband were later forced to move back in to her parents' rectory for eight months due to a crisis.
Ripley's Believe It or Not!: Shatter Your Senses! by Geoff Tibballs
A 2018 edition of the best-selling annual series by Ripley's Believe It or Not! is an all-true, all-new collection filled with incredible facts and mind-blowing photography, as well as strange stories, bizarre feats and hair-raising oddities from around the world.
Shroud of Eternity by Terry Goodkind
As the sorceress Nicci and her companions embark on a quest to restore Nathan's magic, they encounter grotesque omens on their journey to Ildakar, a city shrouded behind time.
Stone Sky N. K. Jemisin
A conclusion to the Hugo Award-winning, post-apocalyptic trilogy that began with The Fifth Season reveals how the powers and agendas of two women determine the fate of humankind in the wake of a returning Moon.
The Sun and Her Flowers by Rupi Kaur
From the #1 New York Times best-selling author of milk and honey comes a long-awaited second collection of poetry, a transcendent journey about growth and healing, ancestry and honoring one's roots and expatriation and rising up to find a home within yourself, augmented by the author's own illustrations.
When: The Scientific Secrets of Perfect Timing by Daniel H. Pink
The best-selling author of Drive illuminates the scientific factors that shape the hidden patterns of a day and challenge scheduled activities, drawing on research in the disciplines of psychology, biology and economics to share practical advice and anecdotes for promoting a richer, more engaged life.
The Wife Between Us by Greer Hendricks
A psychologically charged tale of suspense follows the unexpected twists that shape a divorce and second marriage that are anything but what they seem.
Winter by Ali Smith
Four people converge on a house in Cornwall for Christmas, in a story that depicts in wry observations a bleak, post-truth era rooted in history, memory, art, and laughter at a time of endurance and survival.
You Need a Budget by Jesse Mecham
A guide based on the tenets of the award-winning financial platform, "You Need a Budget," argues that a well-planned budget does not involve deprivation and counsels readers on how to prioritize financial goals, reduce stress through strategic cash flow allocations and meet the challenges of unplanned expenses.