In-Person Book Discussions
Check out one of these online book clubs!
Together We Read is a Digital Book Club for participating libraries in the United States.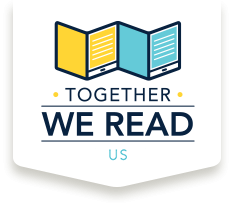 During this two-week program, there will be no waitlists and no holds for the selected title. Download Libby to borrow the free ebook or audiobook from your library using your phone or tablet. Learn more or download the app below.
Big Library Read
Global ebook Club
Big Library Read (BLR), facilitated by OverDrive, is a reading program through your library that connects readers around the world with the same ebook at the same time without any waitlists or holds.
Easy to Join
It's a worldwide digital version of a local book club, the program is free through your local library or school library and all you need to get started reading is a library card or student ID.
Your local book club gone global
Download Libby, find your library, and get ready to read! Simply borrow the free ebook from your library using your phone or tablet.
Women's Book Clubs - Third Party Online
Join Reese Witherspoon's Book Club. You can check the books out with us, if available, in-person or online through our digital resources! 

Each month, Reese, the founder (and book-lover-in-chief) chooses a book with a woman at the center of the story. Reese will tell you the special sauce is a story with honesty and sincerity, celebrating all the ways we are women.
There's no cost to join, which is definitely SOMETHING. To become a member, you simply download the 'Reese's Book Club' app and set up your profile. While downloading the app gets you into the club, finishing your first book seals the deal.