Find your next favorite book, Audiobook, music album, or graphic novel!
The staff at Miami Public Library are happy to share what they have been enjoying with you!
The Guernsey Literary Society and Potato Peel Pie Society by Mary Ann Shaffer
Recommended for Adults
Set in post-WWII England, this novel recounts how one reporter learns how residents of the lonely island of Guernsey struggled during the German occupation. She quickly forms a friendship with some of the residences through mail correspondence. After deciding to make them and their book club the subject of her new book, she travels to Guernsey to meet them and begins having conflicting feelings about her new fiance in England after she meets the man with whom she had been corresponding initially. This novel, while very informative and enlightening to younger generations who have never experienced war, it is also a wonderful story about life, love, and finding a family in a new and unexpected place.
Recommended by: Rochelle Sharbutt, Library Assitant
A Home for Goddesses and Dogs by Leslie Conner
Recommended for Ages 10+ years
A Home for Goddesses and Dogs is an uplifting middle grade novel about recovery featuring strong female characters, an adorable dog, and the girl who comes to love him. The novel deals with loss, love and finding joy in new friendships and a loving family, along with the world's best bad dog.

It's a life-altering New Year for thirteen-year-old Lydia when she uproots to a Connecticut farm to live with her aunt following her mother's death. What can the adults be thinking when they adopt a big yellow dog just days after the girl's arrival? And Lydia is not a dog person! At least at first. Meanwhile, Lydia doesn't want to be difficult—and she does not mean to keep secrets—but there are things she's not telling...
Recommended by: Judy Beauchamp, Children's Librarian
Rabbits by Terry Miles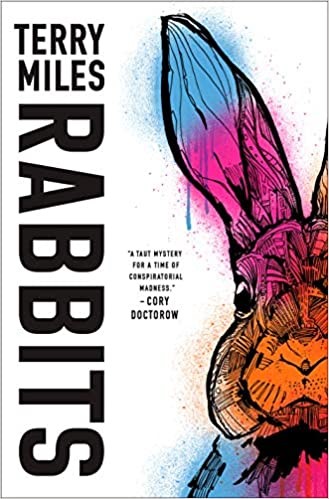 Recommended for: Adults
Rabbits is a mysterious alternate reality game so vast it uses the entire world as its canvas. Since the game started in 1959, ten iterations have appeared and nine winners have been declared. The identities of these winners are unknown. So is their reward, which is whispered to be NSA or CIA recruitment, vast wealth, immortality, or perhaps even the key to the secrets of the universe itself. But the deeper you get, the more dangerous the game becomes. Players have died in the past—and the body count is rising.  And now the eleventh round is about to begin.
Enter K—a Rabbits obsessive who has been trying to find a way into the game for years. That path opens when K is approached by billionaire Alan Scarpio, rumored to be the winner of the sixth iteration. Scarpio says that something has gone wrong with the game and that K needs to fix it before Eleven starts, or the whole world will pay the price.
Five days later, Scarpio is declared missing. Two weeks after that, K blows the deadline: Eleven begins.  And suddenly, the fate of the entire universe is at stake.
Recommended by: Jason Smith, Adult Services
The Mysterious Disappearance of Aiden S. by David Levithan
Recommended for Ages 8-12 years
The Mysterious Disappearance of Aidan S is an insightful story, with echoes of Narnia, that will appeal to thoughtful and sophisticated readers. When Aidan disappears for six days his family and friends are frantic with worry. But equally concerning is the fantastical story Aidan tells when he reappears six days later. It's hard to believe, yet Aidan stands by his claim that he traveled to another world called Aveinieu, where the trees have royal blue leaves and the fireflies flash in different colors. Lucas, his brother, begins to understand the importance of truly listening to-and believing-his brother. The author pulls together timely questions of how we decide who and what to believe.
Recommended by: Judy Beauchamp, Children's Librarian
Anita Blake Vampire Hunter: First Death by Laurell K Hamilton
Recommended for: Adults
Written by Laurell K. Hamilton herself, along with Jonathon Green, THE FIRST DEATH takes place almost a year before the events being chronicled in GUILTY PLEASURES. Witness the first meeting of Anita and Jean-Claude, Anita's first time inside Guilty Pleasures, her first serial-killer case, and an early encounter with Edward. Prepare to be thrilled by this original story produced especially for comics!
Recommended by: Callie Cortner, Assistant Library Director
Over the Moon by Natalie Lloyd
Recommended for Ages 8-12 years
In Coal Top, where twelve-year-old Mallie lives, there is no dreaming. Boys toil in the mines and girls work as servants. Mallie can't bear the idea of that kind of life, but her family is counting on her wages to survive.

So when Mallie is chosen for a dangerous competition in which daring (and ideally, orphaned) children train flying horses, she jumps at the chance. Maybe she'll change her story. Maybe she'll even find the magic she needs to dream again.
Recommended by: Judy Beauchamp, Children's Librarian
The Walking Dead by Robert Kirkman
Recommended for Ages 16+
Since 2003, Robert Kirkman's The Walking Dead has been redefining the survival horror genre with its unique and vivid account of life after the end of the world. Although the cast is diverse and often changing (including, of course, a great number of zombies), at the heart of every tale is Rick Grimes: former police officer, husband, father, and de facto leader of a ragtag band of survivors looking to make a future for
themselves in a world that no longer has one.

To call The Walking Dead a zombie tale is accurate to a point, but it touches on only one facet of a story that asks timeless questions about what it means to live. It also asks whether or not this is possible in a world full of the dead. This is a great opportunity to experience this gripping read for the first time or catch up on the tale with the first four years worth of material, collected in one volume for the first time.
Recommended by: Sonja Haskins, Teen Scene
Cinder by Marissa Meyer
Recommended for Ages 12+
Humans and androids crowd the raucous streets of New Beijing. A deadly plague ravages the population. From space, a ruthless Lunar people watch, waiting to make their move. No one knows that Earth's fate hinges on one girl. . . . Cinder, a gifted mechanic, is a cyborg. She's a second-class citizen with a mysterious past, reviled by her stepmother and blamed for her stepsister's illness. But when her life becomes intertwined with the handsome Prince Kai's, she suddenly finds herself at the center of an intergalactic struggle, and a forbidden attraction. Caught between duty and freedom, loyalty and betrayal, she must uncover secrets about her past in order to protect her world's future.
Recommended by: Sonja Haskins, Teen Scene
Ronan the Librarian by Tara Luebbe and Becky Cattie
Recommended for Ages 4-8 Years
This humorous picture book from sister duo Tara Luebbe and Becky Cattie and illustrator Victoria Maderna follows Ronan the Barbarian as he he grows from being just a rough-and-tumble warrior to Ronan the Librarian--a rough-and-tumble warrior who loves books.

Ronan was a mighty barbarian.

He invaded. He raided. And back home, he traded.

He always found the greatest treasures.

Until one day, Ronan found something no barbarian wants:

A BOOK.

At first, his fellow barbarians are skeptical of his newfound passion for reading, but in the end, even they aren't immune to the charms of a good book.
Recommended by: Sonja Haskins, Teen Scene
Cutest Pet Photo Contest 2021 by Miami Public Library Teen Department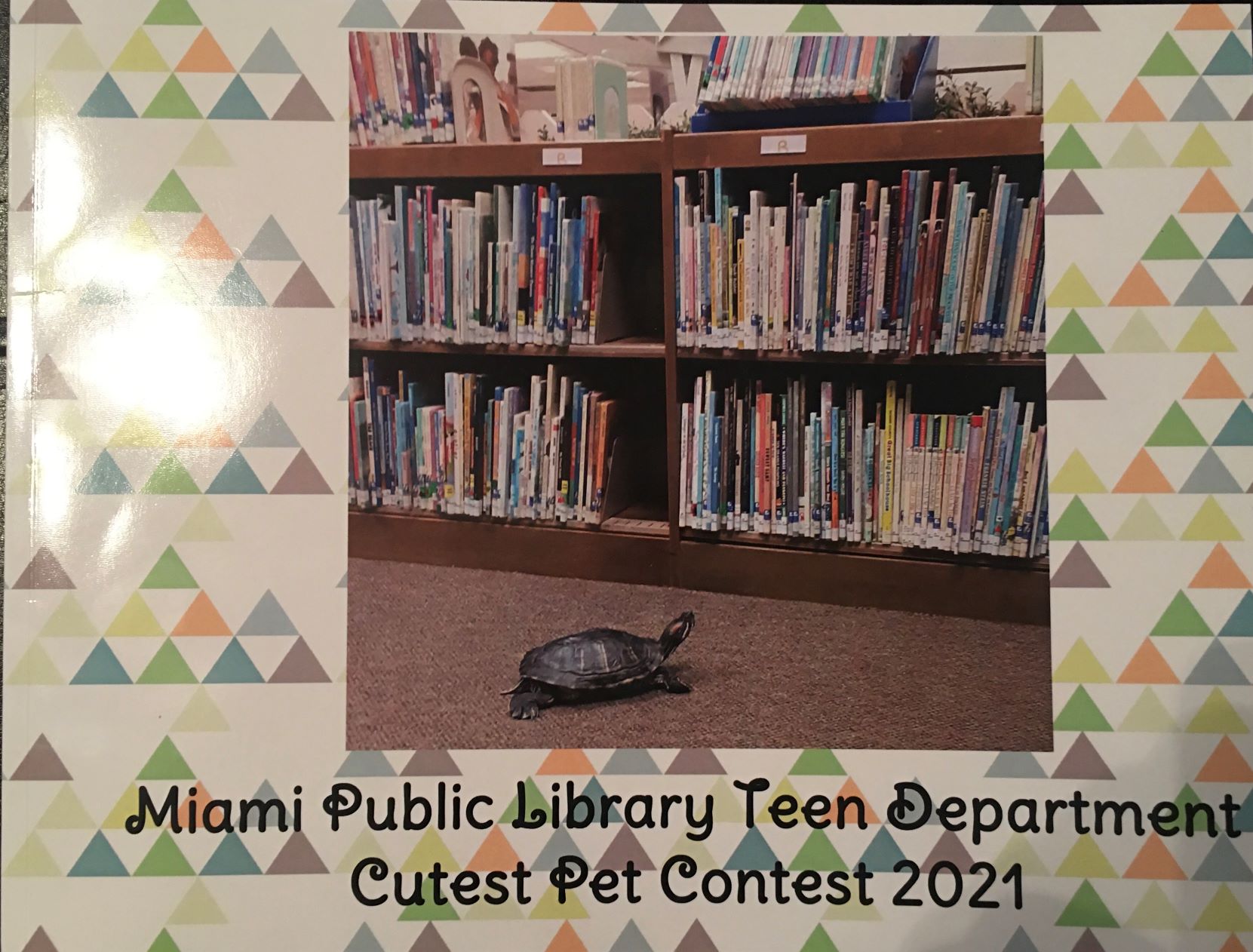 Recommended for All Ages
Okay don't laugh…but my staff pick book would have to be the new" Miami Public Library Teen Department Cutest Pet Contest 2021" book.  This book has a little bit of everything dogs, cats, rabbits, goats, spiders and of course our very own Shelly the turtle.  It is guaranteed to bring a smile to your face seeing all these happy and photogenic pets.
Recommended by: Jennifer Fairres, Tech Services
The Midnight Library by Matt Haig
Recommended for Adults
Everyone wonders what happens to you after you die. For Nora Seed, she gets incredibly close when she gets to find out what happens between life and death. After losing consciousness during a suicide attempt, she finds herself in a library. One where there are an infinite amount of books, each containing different versions of her life. Each version is one that was influenced by a different decision, from the very minute to huge, life-altering decisions. She is then allowed to experience whichever versions she wishes in order to find the version she wants to continue living in. Olympic swimmer, international rock star, glaciologist, a philosophy professor. Which one will she choose? And how will she know if the life she chooses is really the one she wants to live in? This unique story helps shed light on the importance of letting go of mistakes and regrets and living life to the fullest.
Recommended by: Rochelle Sharbutt, Library Assistant
Eleanor Oliphant is Completely Fine by Gail Honeyman
Recommended for Adults
This book takes you into the mind of Eleanor Oliphant, who seems like a completely normal 29-year-old woman living in Glasglow, Scotland...at first. You quickly learn that she is extremely socially awkward due to the fact that she is trying to deal with her very traumatic past which includes her cold, cruel, and narcissistic mother. She lacks any kind of life outside of her job until one day she and a coworker aid in helping an elderly man that has collapsed on the street. This incident (and a few others) lead to her having to address several traumatic issues from her past in therapy. It becomes a fantastic journey of self-discovery and transformation as Eleanor has to confront her past in order to heal herself.
Recommended by: Rochelle Sharbutt, Library Assistant