Find your next favorite book, Audiobook, music album, or graphic novel!
The staff at Miami Public Library are happy to share what they have been enjoying with you!
Winter/Spring 2023 Staff Picks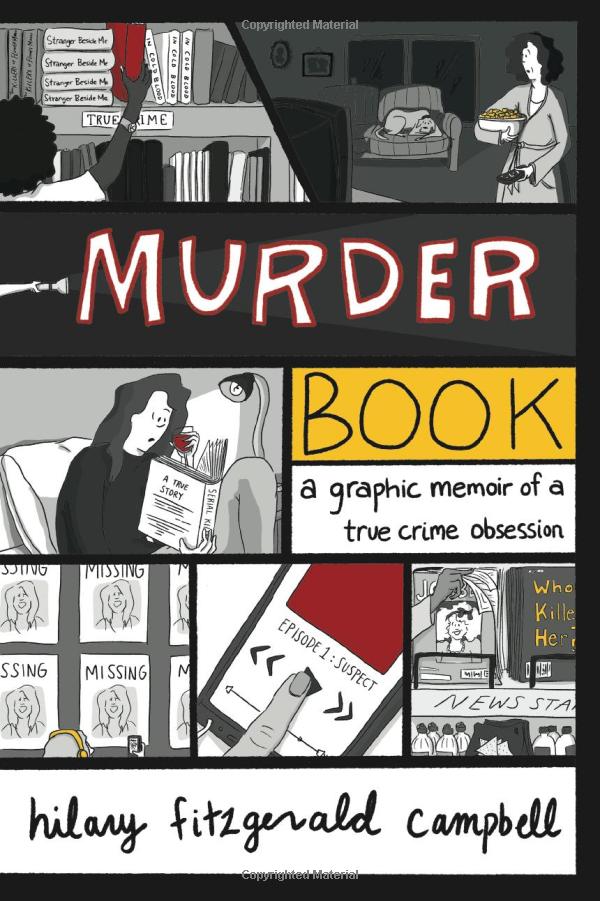 Recommended for Adults
A humorous graphic investigation of the author's obsession with true crime, the murders that have most captivated her throughout her life, and a love letter to her fellow true-crime fanatics.
Why is it so much fun to read about death and dismemberment? In Murder Book, lifelong true-crime obsessive and New Yorker cartoonist Hilary Fitzgerald Campbell tries to puzzle out the answer. An unconventional graphic exploration of a lifetime of Ann Rule super-fandom, amateur armchair sleuthing, and a deep dive into the high-profile murders that have fascinated the author for decades, this is a funny, thoughtful, and highly personal blend of memoir, cultural criticism, and true crime with a focus on the often-overlooked victims of notorious killers.
Recommended by: Sonja Smith, Youth Librarian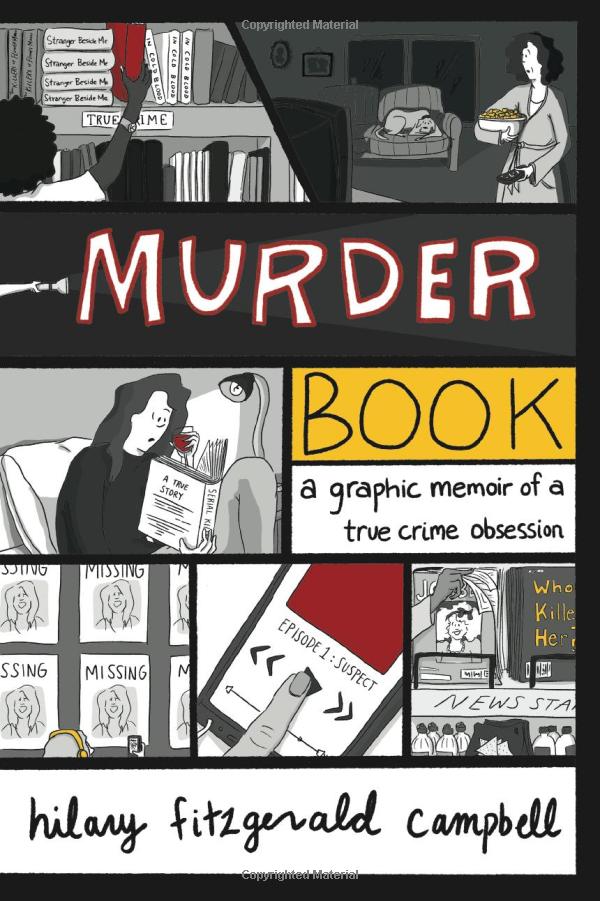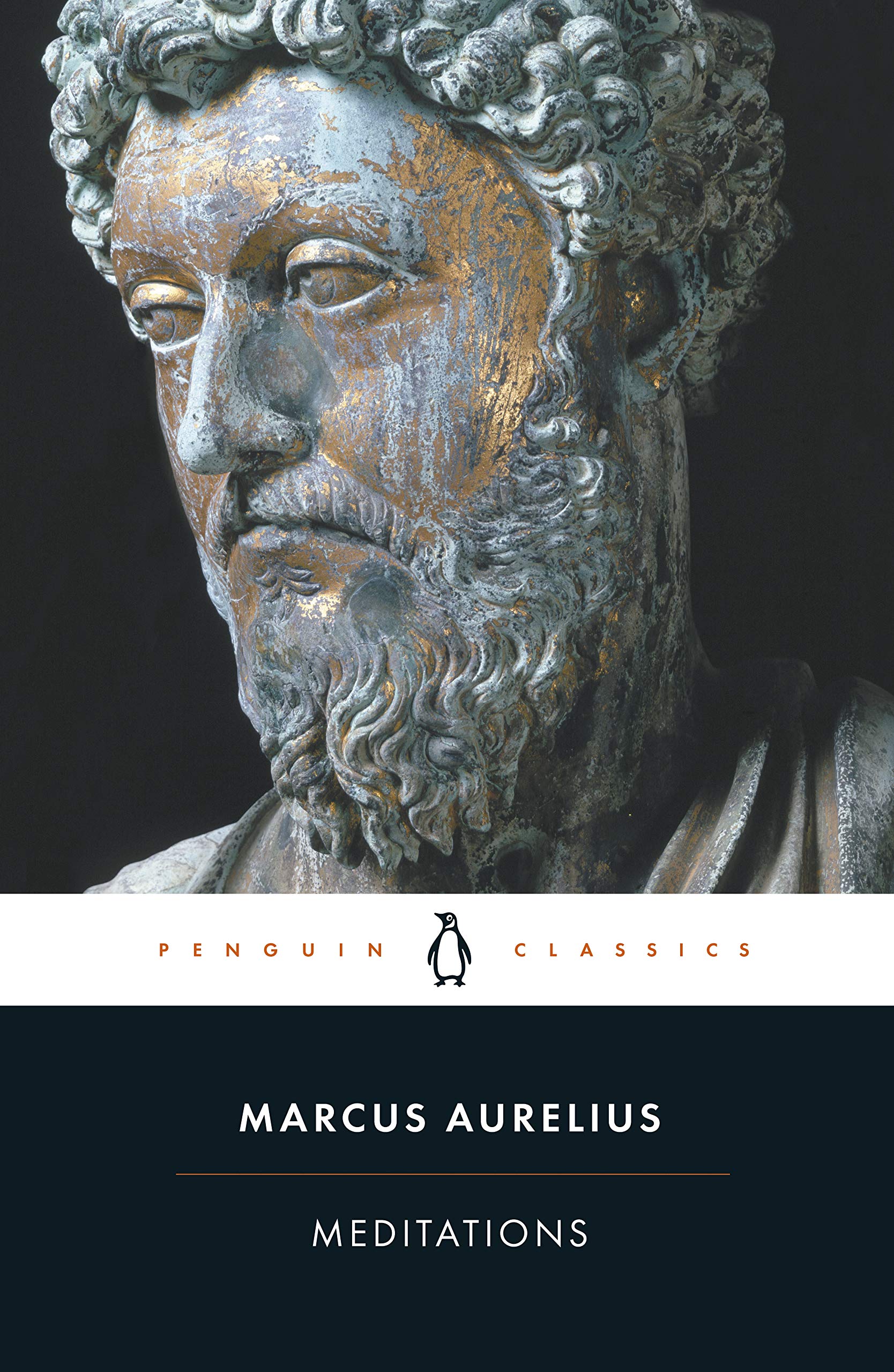 Recommended for Adults & Teens
A leading translation of Stoic philosophy in wise and practical aphorisms that have inspired Bill Clinton, Ryan Holiday, Anna Kendrick and many more.
Written in Greek by an intellectual Roman emperor without any intention of publication, the Meditations of Marcus Aurelius  offer a wide range of fascinating spiritual reflections and exercises developed as the leader struggled to understand himself and make sense of the universe. Spanning from doubt and despair to conviction and exaltation, they cover such diverse topics as the question of virtue, human rationality, the nature of the gods and the values of leadership. But while the Meditations were composed to provide personal consolation, in developing his beliefs Marcus also created one of the greatest of all works of philosophy: a series of wise and practical aphorisms that have been consulted and admired by statesmen, thinkers and ordinary readers for almost two thousand years.
Recommended by: Jaiden Hedrick, Library Custodian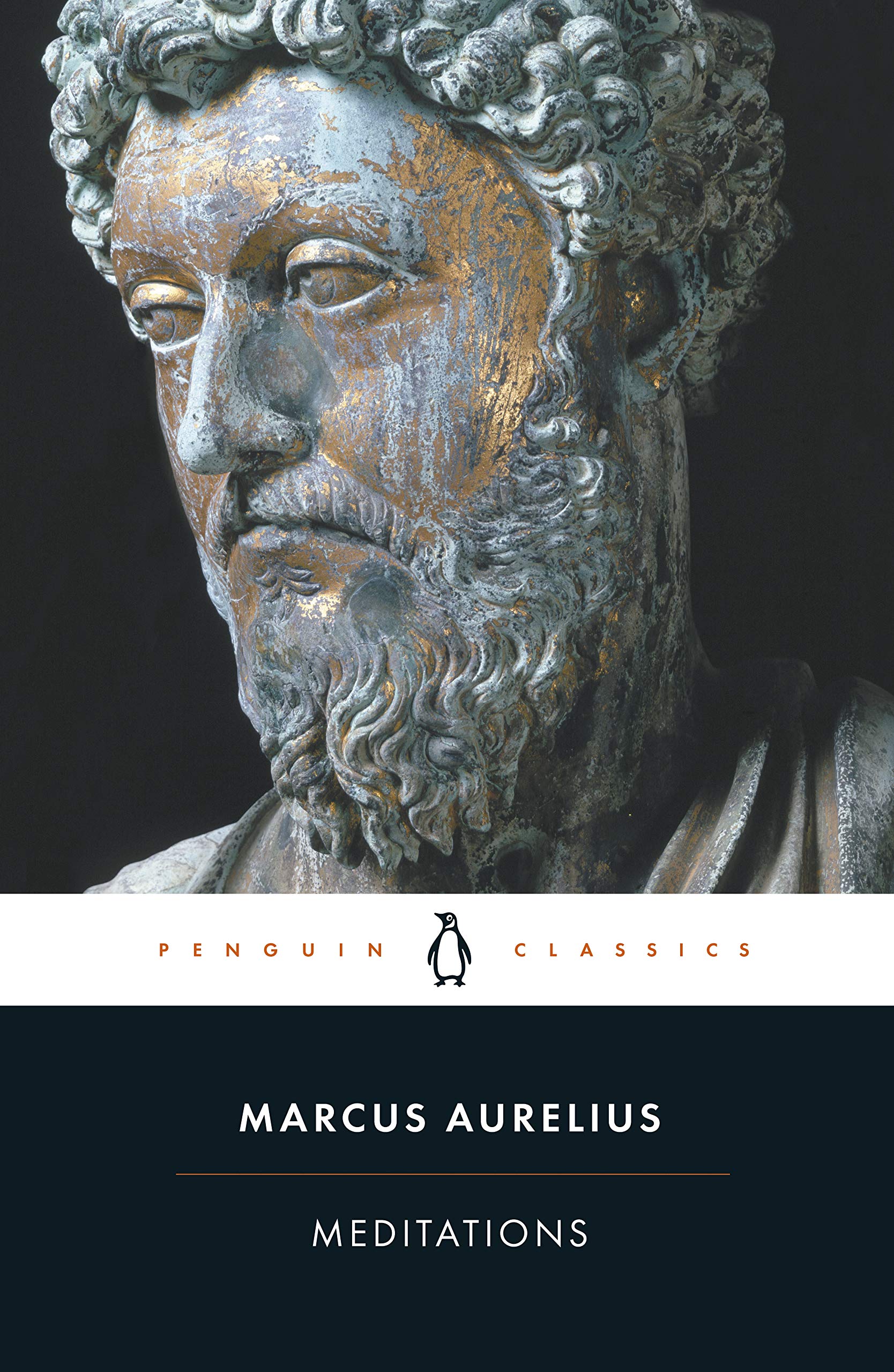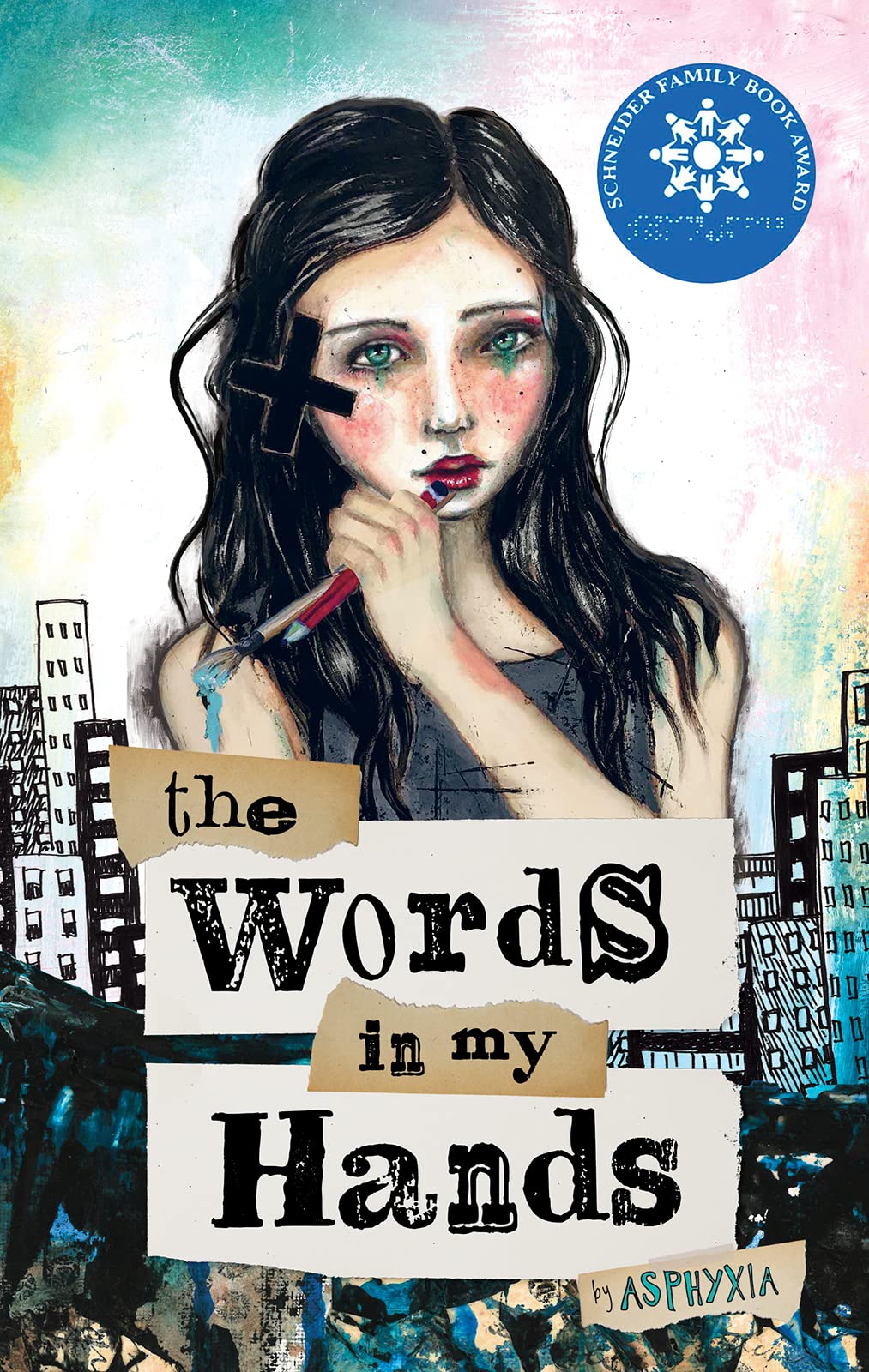 Recommended for Teens
Part coming of age, part call to action, this fast-paced #ownvoices novel about a Deaf teenager is a unique and inspiring exploration of what it means to belong.
Set in an ominously prescient near future, The Words in My Hands is the story of Piper: sixteen, smart, artistic, and rebellious, she's struggling to conform to what her mom wants—for her to be 'normal,' to pass as hearing, and get a good job. But in a time of food scarcity, environmental collapse, and political corruption, Piper has other things on her mind—like survival.
Deaf since the age of three, Piper has always been told that she needs to compensate in a world that puts those who can hear above everyone else. But when she meets Marley, a whole new world opens up—one where Deafness is something to celebrate rather than hide, and where resilience and hope are created by taking action, building a community, and believing in something better.
Published to rave reviews as Future Girl in Australia (Allen & Unwin, Sept. 2020), this unforgettable story is told through a visual extravaganza of text, paint, collage, and drawings that bring Piper's journey vividly to life. Insightful, hopeful, and empowering, The Words in My Hands is very much a novel for our turbulent times.
Recommended by: Sonja Smith, Youth Librarian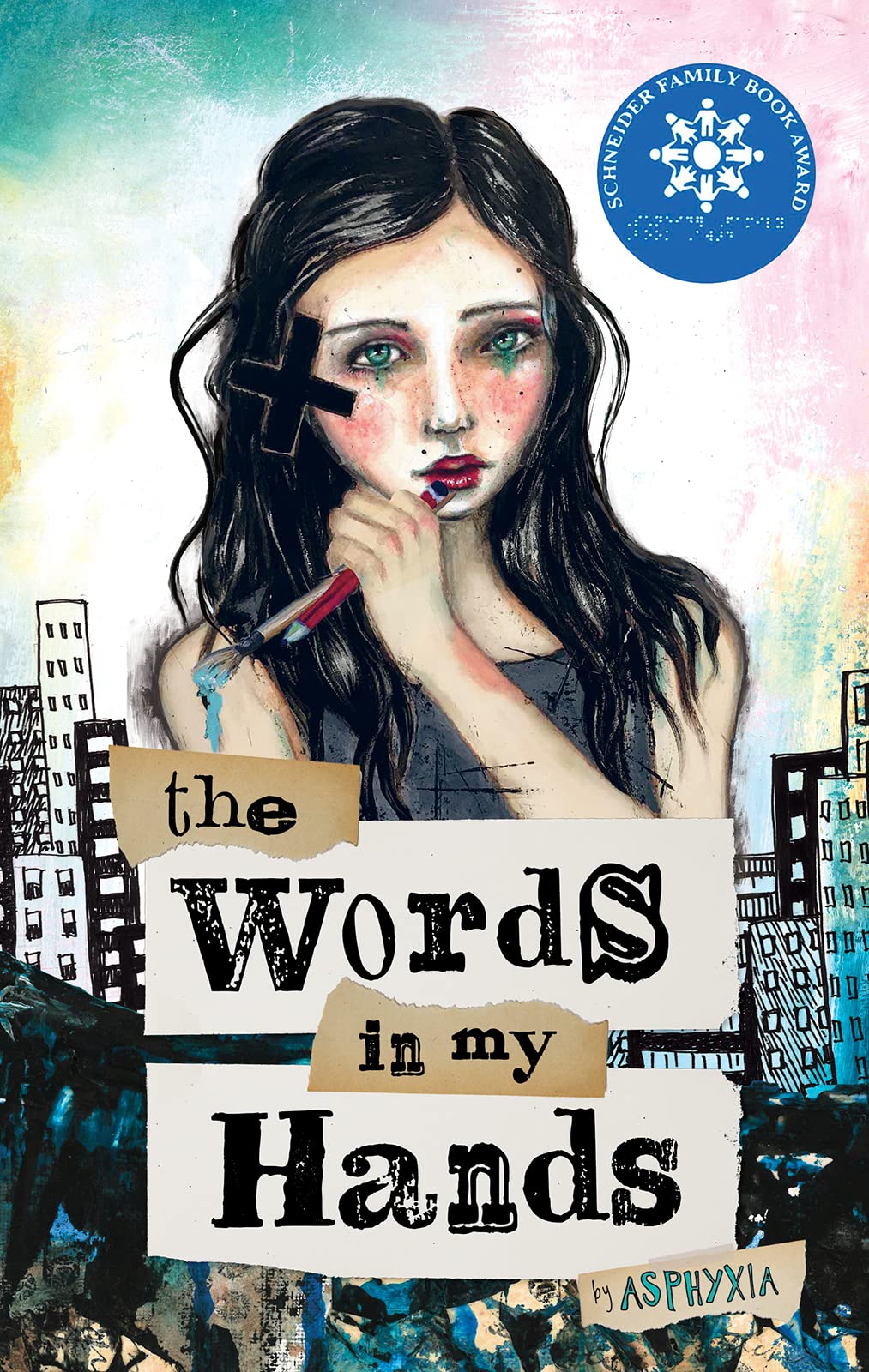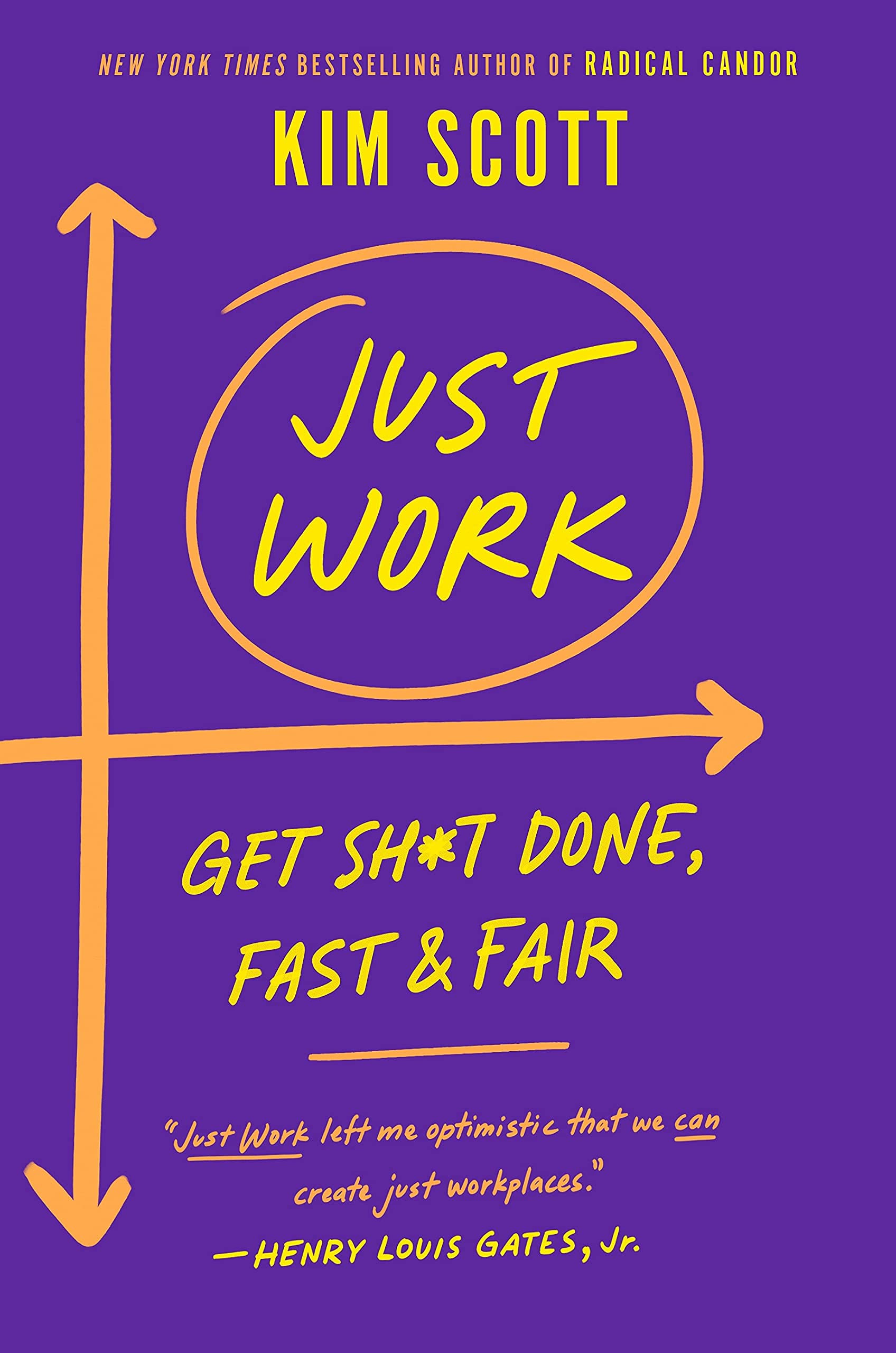 Recommended for Adults
From Kim Scott, author of the revolutionary New York Times bestseller Radical Candor, comes Just Work: Get Sh*t Done, Fast & Fair-how we can recognize, attack, and eliminate workplace injustice-and transform our careers and organizations in the process.
We-all of us-consistently exclude, underestimate, and underutilize huge numbers of people in the workforce even as we include, overestimate, and promote others, often beyond their level of competence. Not only is this immoral and unjust, it's bad for business. Just Work is the solution.
Just Work is Kim Scott's new book, revealing a practical framework for both respecting everyone's individuality and collaborating effectively. This is the essential guide leaders and their employees need to create more just workplaces and establish new norms of collaboration and respect.
Recommended by: Callie Cortner, Director of Library, Arts, & Culture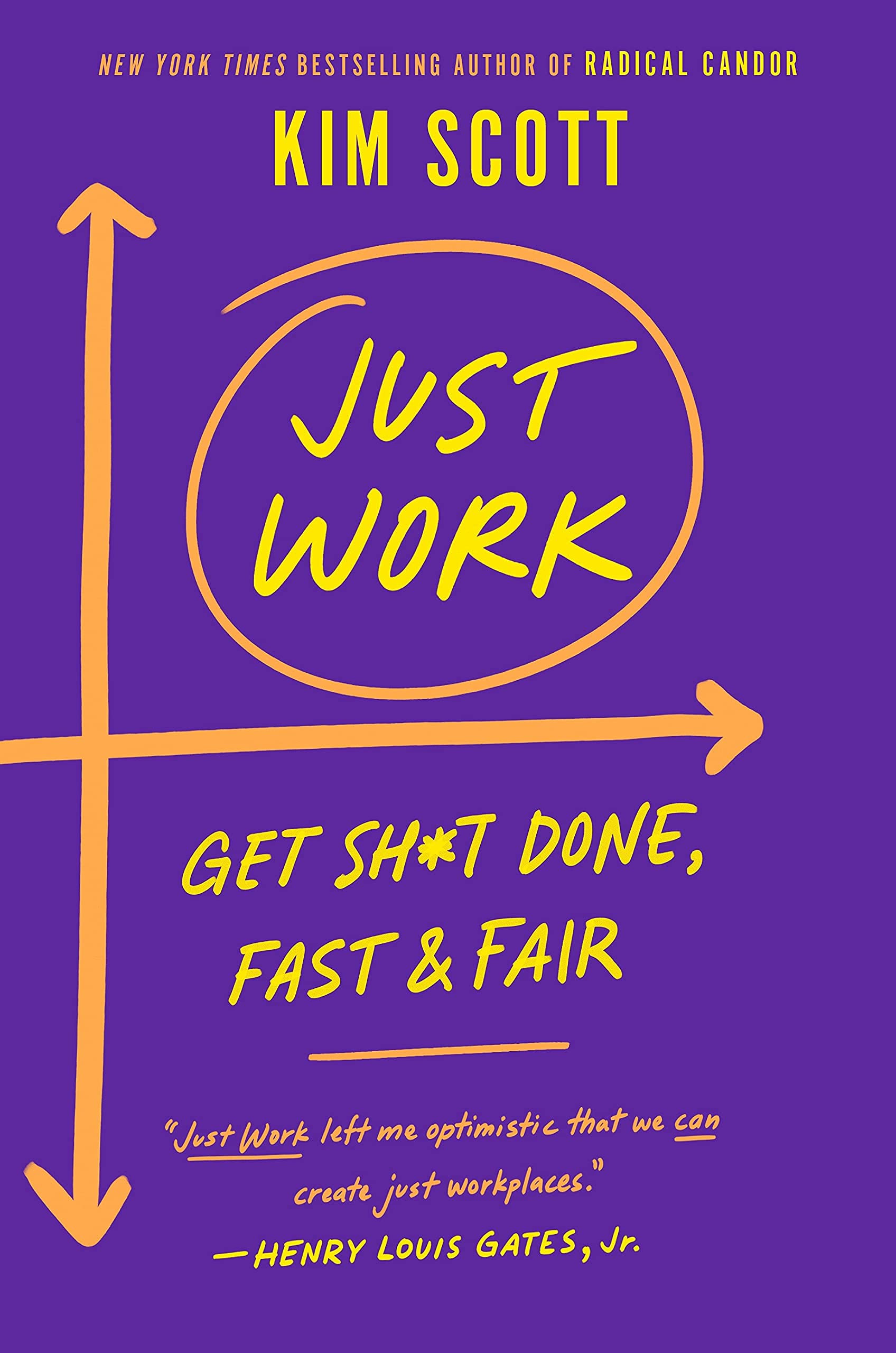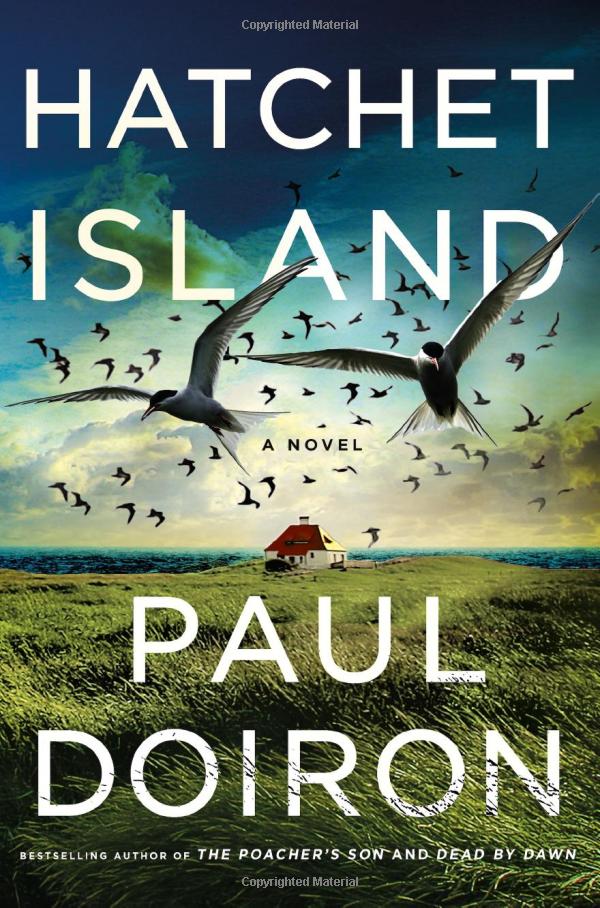 Recommended for Adults
The eerie, windswept Hatchet Island off the coast of Maine becomes the site of a double murder and a disappearance in this thriller from bestselling author Paul Doiron.
A call for help from a former colleague leads Maine game warden investigator Mike Bowditch and his girlfriend Stacey Stevens on a sea kayaking trip to a research station far off the coast. Stacey spent summers interning on the island, a sanctuary for endangered seabirds, and they are shocked by the atmosphere of tension they encounter when they come ashore. The biologists are being threatened and stalked by a mysterious boatman who they suspect is trespassing on the refuge late at night. And now the sanctuary's enigmatic founder, whose mind has been slowly unraveling, has gone missing.
Camped on an islet for the night, Mike and Stacey waken to the sound of a gunshot. When they return to the refuge at dawn, their darkest fears are confirmed: two of the three researchers have been brutally murdered and the third has disappeared, along with the island skiff. Mike's quest to find the missing man leads to a nearby island owned by a world-renowned photographer and his equally brilliant wife. The inhabitants of this private kingdom quickly close ranks, and Mike increasingly comes to believe that someone in the village knows more about the killings than they dare admit.
With no one to trust and miles from shore, Mike Bowditch must stop a ruthless murderer determined to make sure a terrifying secret never sees the light of day.
Recommended by: Jennifer Fairres, Cataloging Librarian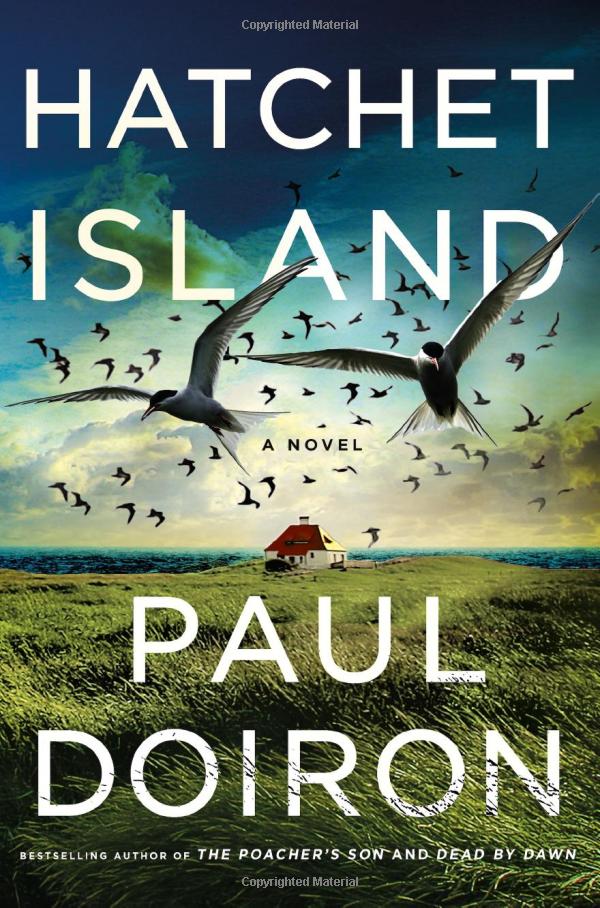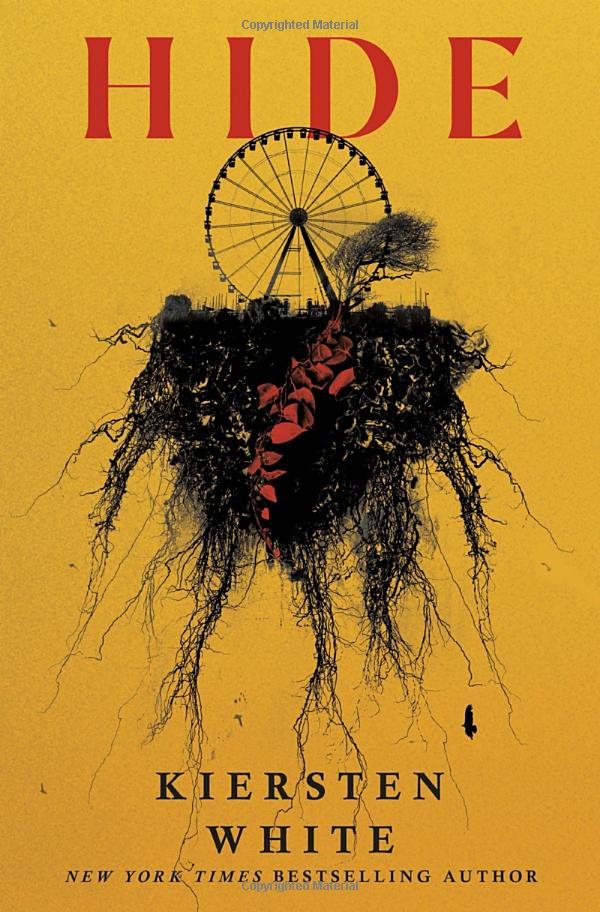 Recommended for Adults
NATIONAL BESTSELLER • A high-stakes hide-and-seek competition turns deadly in this dark supernatural thriller from New York Timesbestselling author Kiersten White.
"The suspenseful plot combines elements of Thomas Tryon's classic Harvest Home, Netflix's Squid Game, and the social commentary of Jordan Peele's film oeuvre and mixes these with a revelatory pacing reminiscent of Spielberg's Jaws."—Booklist
The challenge: Spend a week hiding in an abandoned amusement park and don't get caught.
The prize: enough money to change everything.
Even though everyone is desperate to win—to seize a dream future or escape a haunting past—Mack is sure she can beat her competitors. All she has to do is hide, and she's an expert at that.
It's the reason she's alive and her family isn't.
But as the people around her begin disappearing one by one, Mack realizes that this competition is even more sinister than she imagined, and that together might be the only way to survive.
Fourteen competitors. Seven days. Everywhere to hide but nowhere to run.
Come out, come out, wherever you are.
Recommended by: Jason Smith, Adult Services Librarian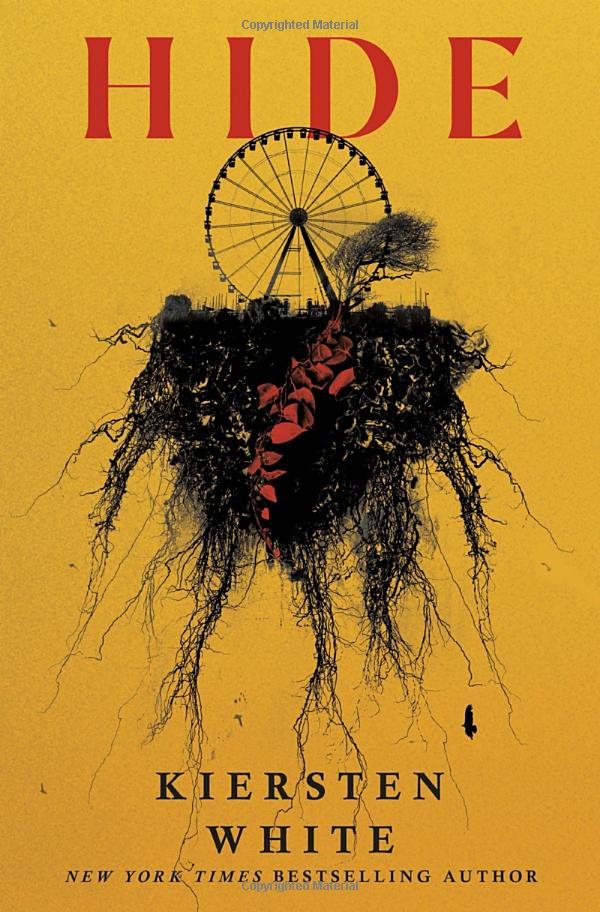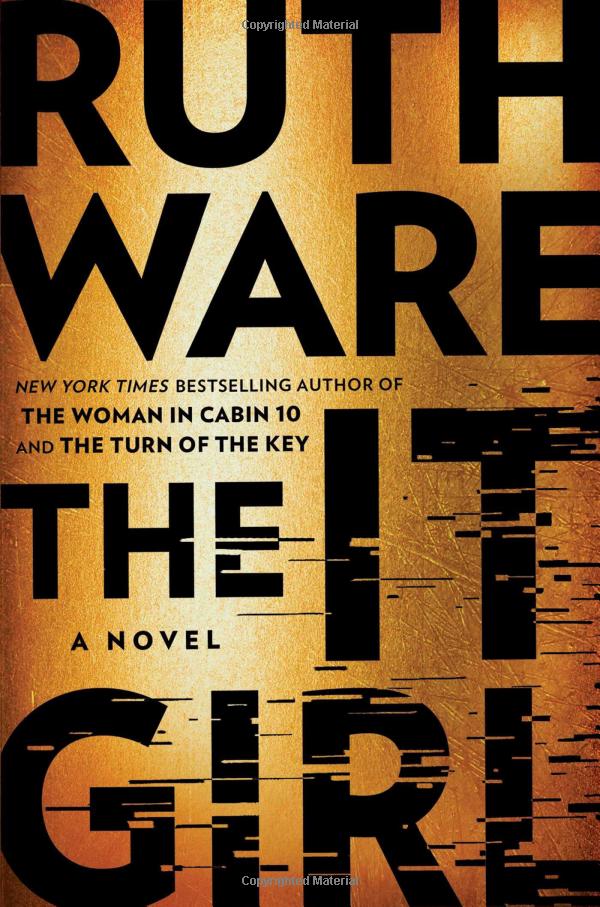 Recommended for Adults
INSTANT NEW YORK TIMESBESTSELLER
The #1 New York Times bestselling author of the "claustrophobic spine-tingler" (People) One by One returns with an unputdownable mystery following a woman on the search for answers a decade after her friend's murder.
April Clarke-Cliveden was the first person Hannah Jones met at Oxford.
Vivacious, bright, occasionally vicious, and the ultimate It girl, she quickly pulled Hannah into her dazzling orbit. Together, they developed a group of devoted and inseparable friends—Will, Hugh, Ryan, and Emily—during their first term. By the end of the year, April was dead.
Now, a decade later, Hannah and Will are expecting their first child, and the man convicted of killing April, former Oxford porter John Neville, has died in prison. Relieved to have finally put the past behind her, Hannah's world is rocked when a young journalist comes knocking and presents new evidence that Neville may have been innocent. As Hannah reconnects with old friends and delves deeper into the mystery of April's death, she realizes that the friends she thought she knew all have something to hide…including a murder.
"The Agatha Christie of our generation" (David Baldacci, #1 New York Times bestselling author) proves once again that she is "as ingenious and indefatigable as the Queen of Crime" (The Washington Post) with this propulsive murder mystery that will keep you on the edge of your seat.
Recommended by: Terry Gilbert, Tech Librarian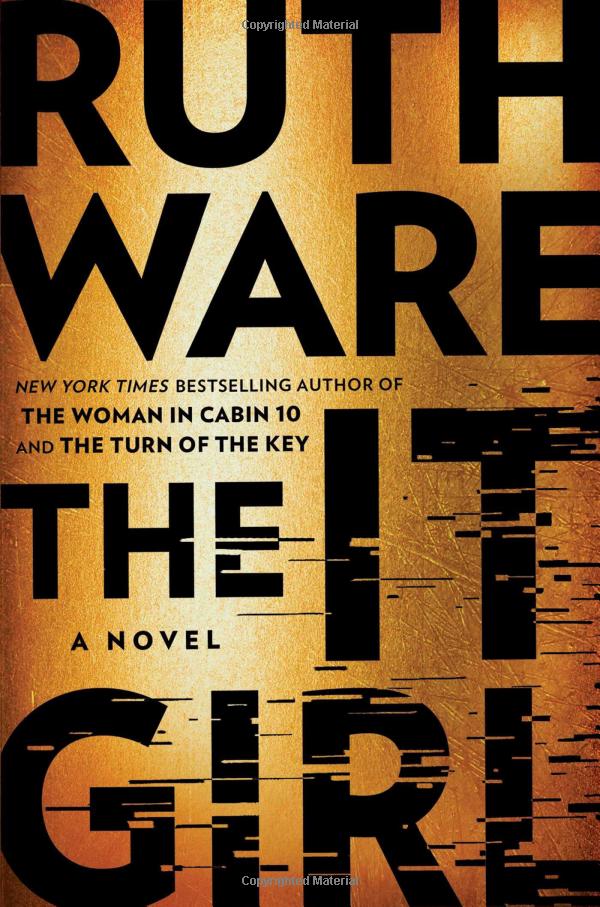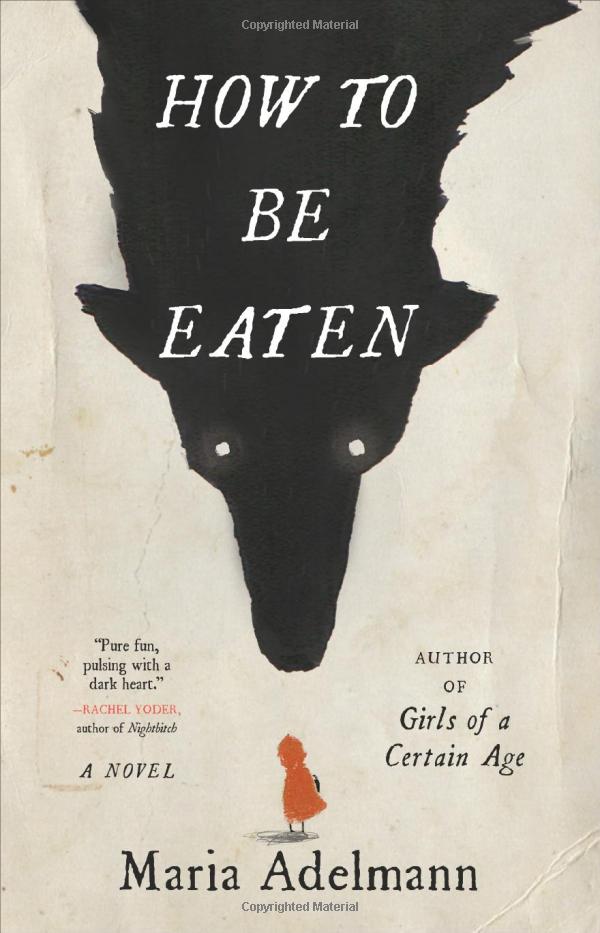 Recommended for Adults
*BELLETRIST JUNE BOOK CLUB PICK*
Named a Best Book of May by TIME Magazine & Glamour 
This darkly funny and provocative novel reimagines classic fairy tale characters as modern women in a support group for trauma.
In present-day New York City, five women meet in a basement support group to process their traumas. Bernice grapples with the fallout of dating a psychopathic, blue-bearded billionaire. Ruby, once devoured by a wolf, now wears him as a coat. Gretel questions her memory of being held captive in a house made of candy. Ashlee, the winner of a Bachelor-esque dating show, wonders if she really got her promised fairy tale ending. And Raina's love story will shock them all.
Though the women start out wary of one another, judging each other's stories, gradually they begin to realize that they may have more in common than they supposed . . . What really brought them here? What secrets will they reveal? And is it too late for them to rescue each other?
Dark, edgy, and wickedly funny, this debut for readers of Carmen Maria Machado, Kristen Arnett, and Kelly Link takes our coziest, most beloved childhood stories, exposes them as anti-feminist nightmares, and transforms them into a new kind of myth for grown-up women.
Recommended by: Cyaira Harvey, Genealogy Assistant Librarian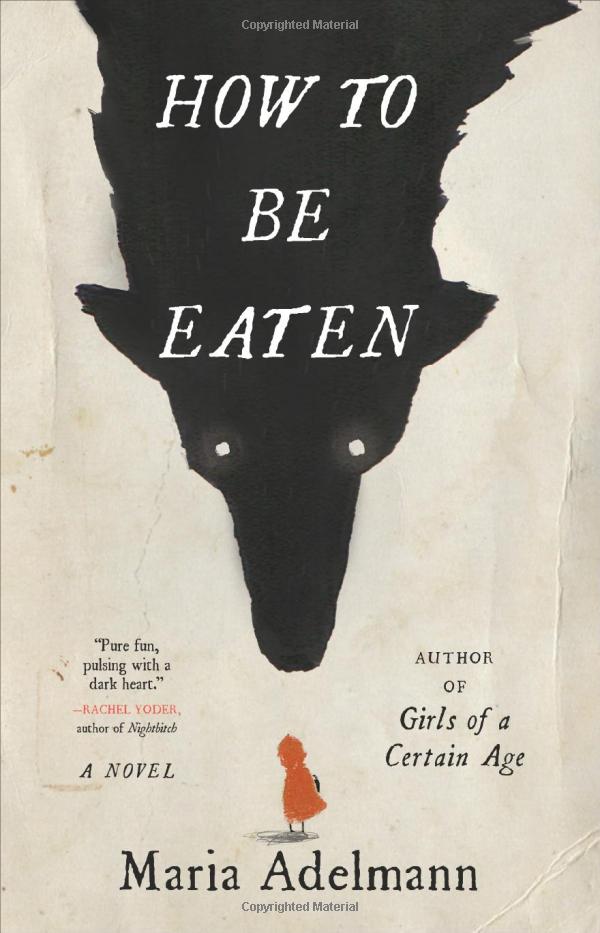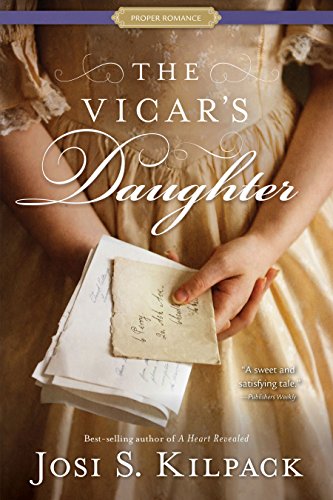 Recommended for Adults
Cassie, the youngest of six daughters in the Wilton family, is bold, bright, and ready to enter society. There's only one problem: her older sister Lenora, whose extreme shyness prevents her from attending many social events. Lenora is now entering her third season, and since their father has decreed that only one Wilton girl can be out at a time, Cassie has no choice except to wait her turn.
Evan Glenside, a soft-spoken, East London clerk, has just been named his great-uncle's heir and, though he is eager to learn all that will be required of him, he struggles to feel accepted in a new town and in his new position.
A chance meeting between Evan and Lenora promises to change everything, but when Lenora proves too shy to pursue the relationship, Cassie begins to write Mr. Glenside letters in the name of her sister. Her good intentions lead to disaster when Cassie realizes she is falling in love with Evan. But then Evan begins to court Lenora, thinking she is the author of the letters.
As secrets are revealed, the hearts of Cassie, Evan, and Lenora are tested. Will the final letter sent by the vicar's daughter be able to reunite the sisters as well as unite Evan with his true love?
Recommended by: Caitlyn Baker, Assistant Library Director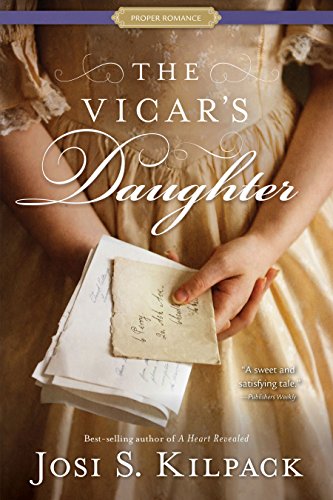 Winter/Spring 2022 Staff Picks
True Believer by Nicholas Sparks
Recommended for Adults
Part love story and part ghost story, this is an unforgettable New York Times bestseller about a science journalist and a North Carolina librarian who dare to believe in the impossible.

As a science journalist with a regular column in Scientific American, Jeremy Marsh specializes in debunking the supernatural-until he falls in love with the granddaughter of the town psychic.

When Jeremy receives a letter from Boone Creek, North Carolina, about ghostly lights appearing in a cemetery, he can't resist driving down to investigate. Here, in this tightly knit community, Lexie Darnell runs the town's library. Disappointed by past relationships, she is sure of one thing: her future is in Boone Creek, close to all the people she loves. From the moment Jeremy sets eyes on Lexie, he is intrigued. And Lexie, while hesitating to trust this outsider, finds herself thinking of him more than she cares to admit. Now, if they are to be together, Jeremy must do something he's never done before-take a giant leap of faith.
Recommended by: Sonja Smith, Teen Librarian
Alice in Wonderland - Graphic Novel by Russell Punter
Recommended for Ages 10+
When Alice follows a white rabbit into his burrow, she enters a fantastic world of weird and wonderful characters. Lewis Carroll's classic fantasy story is faithfully retold in this gorgeously illustrated comic book adaptation.
Recommended by: Callie Cortner, Assistant Library Director
The Green Mile - Movie
Rated R
Paul Edgecomb (Tom Hanks) walked the mile with a variety of cons. He had never encountered someone like John Coffey (Michael Clarke Duncan), a massive black man convicted of brutally killing a pair of young sisters. Coffey had the size and strength to kill anyone, but not the demeanor. Beyond his simple, naive nature and a deathly fear of the dark, Coffey seemed to possess a prodigious, supernatural gift. Paul began to question whether Coffey was truly guilty of murdering the two girls.
Recommended by: Jaiden Hedrick, Custodian
The Hunting Party: A Novel by Lucy Foley
Recommended for Adults
During the languid days of the Christmas break, a group of thirtysomething friends from Oxford meet to welcome in the New Year together, a tradition they began as students ten years ago. For this vacation, they've chosen an idyllic and isolated estate in the Scottish Highlands—the perfect place to get away and unwind by themselves.

The trip begins innocently enough: admiring the stunning if foreboding scenery, champagne in front of a crackling fire, and reminiscences about the past. But after a decade, the weight of secret resentments has grown too heavy for the group's tenuous nostalgia to bear. Amid the boisterous revelry of New Year's Eve, the cord holding them together snaps, just as a historic blizzard seals the lodge off from the outside world.

Two days later, on New Year's Day, one of them is dead. . . and another of them did it.

Keep your friends close, the old adage says. But how close is too close?

DON'T BE LEFT OUT. JOIN THE PARTY NOW.
Recommended by: Cyaira Harvey, Library Assistant
GUARDIANS OF THE GALAXY - Movie
Rated PG-13
From Marvel, the studio that brought you the global blockbuster franchises of Iron Man, Thor, Captain America and The Avengers, comes a new team—the Guardians of the Galaxy. An action-packed, epic space adventure, Marvel's Guardians of the Galaxy expands the Marvel Cinematic Universe into the cosmos, where brash adventurer Peter Quill finds himself the object of an unrelenting bounty hunt after stealing a mysterious orb coveted by Ronan, a powerful villain with ambitions that threaten the entire universe. To evade the ever-persistent Ronan, Quill is forced into an uneasy truce with a quartet of disparate misfits—Rocket, a gun-toting raccoon, Groot, a tree-like humanoid, the deadly and enigmatic Gamora and the revenge-driven Drax the Destroyer. But when Quill discovers the true power of the orb and the menace it poses to the cosmos, he must do his best to rally his ragtag rivals for a last desperate stand—with the galaxy's fate in the balance.
Recommended by: Sonja Haskins, Teen Librarian
Bloodless (Agent Pendergast Series, 21) by Douglas Preston and Lincoln Child
Recommended for Adults
A fabulous heist:
On the evening of November 24, 1971, D. B. Cooper hijacked Flight 305—Portland to Seattle—with a fake bomb, collected a ransom of $200,000, and then parachuted from the rear of the plane, disappearing into the night…and into history.

A brutal crime steeped in legend and malevolence:
Fifty years later, Agent Pendergast takes on a bizarre and gruesome case: in the ghost-haunted city of Savannah, Georgia, bodies are found with no blood left in their veins—sowing panic and reviving whispered tales of the infamous Savannah Vampire.

A case like no other:
As the mystery rises along with the body count, Pendergast and his partner, Agent Coldmoon, race to understand how—or if—these murders are connected to the only unsolved skyjacking in American history. Together, they uncover not just the answer…but an unearthly evil beyond all imagining.
Recommended by: Terry Gilbert, Technology Manager
Teen Trailblazers: 30 Fearless Girls Who Changed the World Before They Were 20 by Jennifer Calvert and Vesna Asanovic
Recommended for Teens
True stories of young women who made a big difference! From authors to activists, painters to politicians, inventors to icons, these inspiring teenagers are proof that girls can change the world.

Joan of Arc. Anne Frank. Cleopatra. Pocahontas. Mary Shelley. Many of these heroines are well-known. But have you heard of Sybil Ludington, a 16-year-old daughter of an American colonel who rode twice as far as the far better-remembered Paul Revere to warn the militia that the British army was invading?

This fascinating book, Teen Trailblazers, features 30 young women who accomplished remarkable things before their twentieth birthdays. Visually compelling with original illustrations, this book will inspire the next generation of strong, fearless women.
Recommended by: Sonja Smith, Teen Librarian
In My Dreams I Hold a Knife: A Novel by Ashley Winstead
Recommended for Adults
Six friends.
One college reunion.
One unsolved murder.

Ten years after graduation, Jessica Miller has planned her triumphant return to her southern, elite Duquette University, down to the envious whispers that are sure to follow in her wake. Everyone is going to see the girl she wants them to see—confident, beautiful, indifferent. Not the girl she was when she left campus, back when Heather Shelby's murder fractured everything, including the tight bond linking the six friends she'd been closest to since freshman year.

But not everyone is ready to move on. Not everyone left Duquette ten years ago, and not everyone can let Heather's murder go unsolved. Someone is determined to trap the real killer, to make the guilty pay. When the six friends are reunited, they will be forced to confront what happened that night—and the years' worth of secrets each of them would do anything to keep hidden.

Told in racing dual timelines, with a dark campus setting and a darker look at friendship, love, obsession, and ambition, In My Dreams I Hold A Knife is an addictive, propulsive read you won't be able to put down.
Recommended by: Cyaira Harvey, Library Assistant
Schitts Creek - TV Series
Rated PG-13
Suddenly broke, the formerly filthy-rich Rose family is reduced to living in a ramshackle motel in a town they once bought as a joke: Schitt's Creek.
Recommended by: Jennifer Farries, Tech Services
Go Tell the Bees That I Am Gone: A Novel (Outlander) by Diana Gabaldon
Recommended for: Adults
Jamie Fraser and Claire Randall were torn apart by the Jacobite Rising in 1746, and it took them twenty years to find each other again. Now the American Revolution threatens to do the same.
It is 1779 and Claire and Jamie are at last reunited with their daughter, Brianna, her husband, Roger, and their children on Fraser's Ridge. Having the family together is a dream the Frasers had thought impossible.
Yet even in the North Carolina backcountry, the effects of war are being felt. Tensions in the Colonies are great and local feelings run hot enough to boil Hell's teakettle. Jamie knows loyalties among his tenants are split and it won't be long until the war is on his doorstep.
Brianna and Roger have their own worry: that the dangers that provoked their escape from the twentieth century might catch up to them. Sometimes they question whether risking the perils of the 1700s—among them disease, starvation, and an impending war—was indeed the safer choice for their family.
Not so far away, young William Ransom is still coming to terms with the discovery of his true father's identity—and thus his own—and Lord John Grey has reconciliations to make, and dangers to meet . . . on his son's behalf, and his own.
Meanwhile, the Revolutionary War creeps ever closer to Fraser's Ridge. And with the family finally together, Jamie and Claire have more at stake than ever before.
Recommended by: Callie Cortner, Assistant Library Director
The Bad Beginning (A Series of Unfortunate Events #1) by Lemony Snicket
Recommended for Ages 8-12 years
In the tradition of great storytellers, from Dickens to Dahl, comes an exquisitely dark comedy that is both literary and irreverent, hilarious and deftly crafted. Never before has a tale of three likeable and unfortunate children been quite so enchanting, or quite so uproariously unhappy.

Are you made fainthearted by death? Does fire unnerve you? Is a villain something that might crop up in future nightmares of yours? Are you thrilled by nefarious plots? Is cold porridge upsetting to you? Vicious threats? Hooks? Uncomfortable clothing?

It is likely that your answers will reveal A Series of Unfortunate Events to be ill-suited for your personal use. A librarian, bookseller, or acquaintance should be able to suggest books more appropriate for your fragile temperament. But to the rarest of readers we say, "Proceed, but cautiously."
Recommended by: Sonja Smith, Teen Librarian
The Pioneer Woman Cooks―Super Easy!: 120 Shortcut Recipes for Dinners, Desserts, and More bu Ree Drummond
Recommended for anyone who likes to cook!
Bring the family together—and take it easy on yourself!

Between my family, my website, my cookbooks, and my TV show, I make a lot of food around here! And as much as I've always loved cooking (and of course, eating!), it seems that more and more these days, I'm looking for ways to simplify my life in the kitchen. I find myself gravitating toward recipes that are delicious but don't require a lot of prep or fuss, because they free me up to have more time (and energy) for other areas of my life. This also makes cooking less of a chore and more of a pleasure—exactly what cooking should be!

The Pioneer Woman Cooks—Super Easy! will free you up and transform your cooking life as well, with 120 recipes that range from effortless breakfasts to breezy skillet meals to speedy soups to ready-in-minutes Tex-Mex delights, so you'll have lots of options for any given meal. Many recipes in this cookbook call for step-saving (and sanity-saving) shortcuts that will revolutionize the time you spend making meals for your family, and all of them are utterly scrumptious! I've absolutely fallen in love with this new generation of recipes, including Butter Pecan French Toast, Buffalo Chicken Totchos, Speedy Dumpling Soup, Broccoli-Cheese Stromboli (so great for kids!), and an entire section of pastas and grains, such as One-Pot Sausage Pasta and colorful and fresh Hawaiian Shrimp Bowls. You'll find yummy meals such as Pepperoni Fried Rice, Chicken-Fried Steak Fingers, and ultra-tasty Chicken Curry in a Hurry . . . as well as assemble-in-the-baking-dish casseroles, throw-together sheet pan suppers, and simply decadent desserts such as Mug Cakes, Coconut Cream Pie, and Brownie S'Mores Bars that you'll dream about.

There's something for everyone in this cookbook, and not a single recipe, ingredient, or step is complicated or difficult. Now that's the kind of cooking we can all get behind!
Recommended by: Jennifer Fairres, Tech Services
Parasite - Movie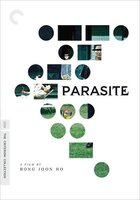 Rated R
A zeitgeist-defining sensation that distilled a global reckoning over class inequality into a tour de force of pop-cinema subversion, this is Bong Joon Ho's genre-scrambling black-comic thriller. Two families in Seoul, one barely scraping by in a dank semi-basement in a low-lying neighborhood, the other living in luxury in a modern architectural marvel overlooking the city, find themselves on a collision course that will lay bare the dark contradictions of capitalism with shocking ferocity
Recommended by: Cyaira Harvey, Library Assistant
Goddess of Love by P.C. Cast
Recommended for Adults
The mythical Venus helps a nerdy woman find her own inner goddess in this novel in #1 New York Times bestselling author P. C. Cast's Goddess Summoning series...

Pea Chamberlain needs a makeover—shoes, hair, clothes, make-up, everything—especially if she wants to attract sexy fireman Griffin DeAngelo at the fireman's masked ball. And there's no one better suited to coax Pea out of her pod than the Goddess of Love, whom she invokes in a moment of desperation.

After eons of helping others find love, Venus has no problem working her magic on Pea. But when the goddess herself starts falling head over heels for Griffin, it will take an act of divine intervention to set this love triangle to rights...
Recommended by: Callie Cortner, Assistant Library Director
Fall & Winter 2021 Staff Picks
The Guernsey Literary Society and Potato Peel Pie Society by Mary Ann Shaffer
Recommended for Adults
Set in post-WWII England, this novel recounts how one reporter learns how residents of the lonely island of Guernsey struggled during the German occupation. She quickly forms a friendship with some of the residences through mail correspondence. After deciding to make them and their book club the subject of her new book, she travels to Guernsey to meet them and begins having conflicting feelings about her new fiance in England after she meets the man with whom she had been corresponding initially. This novel, while very informative and enlightening to younger generations who have never experienced war, it is also a wonderful story about life, love, and finding a family in a new and unexpected place.
Recommended by: Rochelle Sharbutt, Library Assitant
A Home for Goddesses and Dogs by Leslie Conner
Recommended for Ages 10+ years
A Home for Goddesses and Dogs is an uplifting middle grade novel about recovery featuring strong female characters, an adorable dog, and the girl who comes to love him. The novel deals with loss, love and finding joy in new friendships and a loving family, along with the world's best bad dog.

It's a life-altering New Year for thirteen-year-old Lydia when she uproots to a Connecticut farm to live with her aunt following her mother's death. What can the adults be thinking when they adopt a big yellow dog just days after the girl's arrival? And Lydia is not a dog person! At least at first. Meanwhile, Lydia doesn't want to be difficult—and she does not mean to keep secrets—but there are things she's not telling...
Recommended by: Judy Beauchamp, Children's Librarian
Rabbits by Terry Miles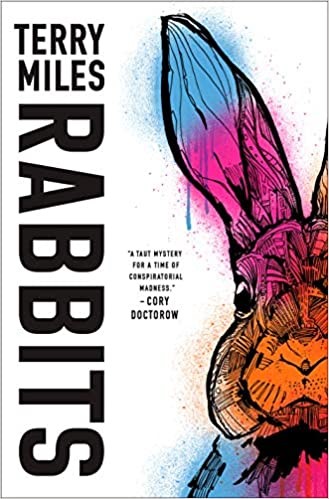 Recommended for: Adults
Rabbits is a mysterious alternate reality game so vast it uses the entire world as its canvas. Since the game started in 1959, ten iterations have appeared and nine winners have been declared. The identities of these winners are unknown. So is their reward, which is whispered to be NSA or CIA recruitment, vast wealth, immortality, or perhaps even the key to the secrets of the universe itself. But the deeper you get, the more dangerous the game becomes. Players have died in the past—and the body count is rising.  And now the eleventh round is about to begin.
Enter K—a Rabbits obsessive who has been trying to find a way into the game for years. That path opens when K is approached by billionaire Alan Scarpio, rumored to be the winner of the sixth iteration. Scarpio says that something has gone wrong with the game and that K needs to fix it before Eleven starts, or the whole world will pay the price.
Five days later, Scarpio is declared missing. Two weeks after that, K blows the deadline: Eleven begins.  And suddenly, the fate of the entire universe is at stake.
Recommended by: Jason Smith, Adult Services
The Mysterious Disappearance of Aiden S. by David Levithan
Recommended for Ages 8-12 years
The Mysterious Disappearance of Aidan S is an insightful story, with echoes of Narnia, that will appeal to thoughtful and sophisticated readers. When Aidan disappears for six days his family and friends are frantic with worry. But equally concerning is the fantastical story Aidan tells when he reappears six days later. It's hard to believe, yet Aidan stands by his claim that he traveled to another world called Aveinieu, where the trees have royal blue leaves and the fireflies flash in different colors. Lucas, his brother, begins to understand the importance of truly listening to-and believing-his brother. The author pulls together timely questions of how we decide who and what to believe.
Recommended by: Judy Beauchamp, Children's Librarian
Anita Blake Vampire Hunter: First Death by Laurell K Hamilton
Recommended for: Adults
Written by Laurell K. Hamilton herself, along with Jonathon Green, THE FIRST DEATH takes place almost a year before the events being chronicled in GUILTY PLEASURES. Witness the first meeting of Anita and Jean-Claude, Anita's first time inside Guilty Pleasures, her first serial-killer case, and an early encounter with Edward. Prepare to be thrilled by this original story produced especially for comics!
Recommended by: Callie Cortner, Assistant Library Director
Over the Moon by Natalie Lloyd
Recommended for Ages 8-12 years
In Coal Top, where twelve-year-old Mallie lives, there is no dreaming. Boys toil in the mines and girls work as servants. Mallie can't bear the idea of that kind of life, but her family is counting on her wages to survive.

So when Mallie is chosen for a dangerous competition in which daring (and ideally, orphaned) children train flying horses, she jumps at the chance. Maybe she'll change her story. Maybe she'll even find the magic she needs to dream again.
Recommended by: Judy Beauchamp, Children's Librarian
The Walking Dead by Robert Kirkman
Recommended for Ages 16+
Since 2003, Robert Kirkman's The Walking Dead has been redefining the survival horror genre with its unique and vivid account of life after the end of the world. Although the cast is diverse and often changing (including, of course, a great number of zombies), at the heart of every tale is Rick Grimes: former police officer, husband, father, and de facto leader of a ragtag band of survivors looking to make a future for
themselves in a world that no longer has one.

To call The Walking Dead a zombie tale is accurate to a point, but it touches on only one facet of a story that asks timeless questions about what it means to live. It also asks whether or not this is possible in a world full of the dead. This is a great opportunity to experience this gripping read for the first time or catch up on the tale with the first four years worth of material, collected in one volume for the first time.
Recommended by: Sonja Haskins, Teen Scene
Cinder by Marissa Meyer
Recommended for Ages 12+
Humans and androids crowd the raucous streets of New Beijing. A deadly plague ravages the population. From space, a ruthless Lunar people watch, waiting to make their move. No one knows that Earth's fate hinges on one girl. . . . Cinder, a gifted mechanic, is a cyborg. She's a second-class citizen with a mysterious past, reviled by her stepmother and blamed for her stepsister's illness. But when her life becomes intertwined with the handsome Prince Kai's, she suddenly finds herself at the center of an intergalactic struggle, and a forbidden attraction. Caught between duty and freedom, loyalty and betrayal, she must uncover secrets about her past in order to protect her world's future.
Recommended by: Sonja Haskins, Teen Scene
Ronan the Librarian by Tara Luebbe and Becky Cattie
Recommended for Ages 4-8 Years
This humorous picture book from sister duo Tara Luebbe and Becky Cattie and illustrator Victoria Maderna follows Ronan the Barbarian as he he grows from being just a rough-and-tumble warrior to Ronan the Librarian--a rough-and-tumble warrior who loves books.

Ronan was a mighty barbarian.

He invaded. He raided. And back home, he traded.

He always found the greatest treasures.

Until one day, Ronan found something no barbarian wants:

A BOOK.

At first, his fellow barbarians are skeptical of his newfound passion for reading, but in the end, even they aren't immune to the charms of a good book.
Recommended by: Sonja Haskins, Teen Scene
Cutest Pet Photo Contest 2021 by Miami Public Library Teen Department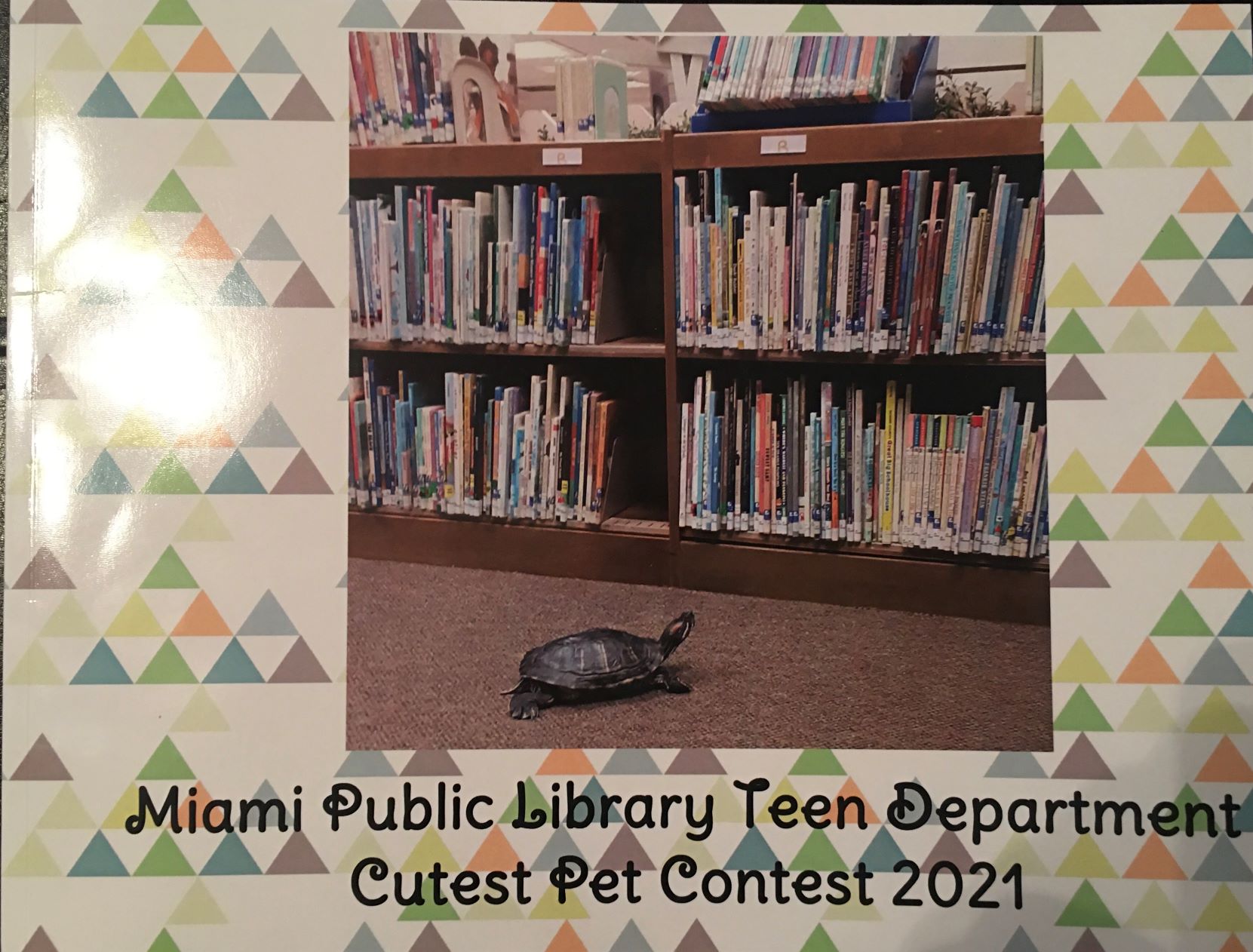 Recommended for All Ages
Okay don't laugh…but my staff pick book would have to be the new" Miami Public Library Teen Department Cutest Pet Contest 2021" book.  This book has a little bit of everything dogs, cats, rabbits, goats, spiders and of course our very own Shelly the turtle.  It is guaranteed to bring a smile to your face seeing all these happy and photogenic pets.
Recommended by: Jennifer Fairres, Tech Services
The Midnight Library by Matt Haig
Recommended for Adults
Everyone wonders what happens to you after you die. For Nora Seed, she gets incredibly close when she gets to find out what happens between life and death. After losing consciousness during a suicide attempt, she finds herself in a library. One where there are an infinite amount of books, each containing different versions of her life. Each version is one that was influenced by a different decision, from the very minute to huge, life-altering decisions. She is then allowed to experience whichever versions she wishes in order to find the version she wants to continue living in. Olympic swimmer, international rock star, glaciologist, a philosophy professor. Which one will she choose? And how will she know if the life she chooses is really the one she wants to live in? This unique story helps shed light on the importance of letting go of mistakes and regrets and living life to the fullest.
Recommended by: Rochelle Sharbutt, Library Assistant
Eleanor Oliphant is Completely Fine by Gail Honeyman
Recommended for Adults
This book takes you into the mind of Eleanor Oliphant, who seems like a completely normal 29-year-old woman living in Glasglow, Scotland...at first. You quickly learn that she is extremely socially awkward due to the fact that she is trying to deal with her very traumatic past which includes her cold, cruel, and narcissistic mother. She lacks any kind of life outside of her job until one day she and a coworker aid in helping an elderly man that has collapsed on the street. This incident (and a few others) lead to her having to address several traumatic issues from her past in therapy. It becomes a fantastic journey of self-discovery and transformation as Eleanor has to confront her past in order to heal herself.
Recommended by: Rochelle Sharbutt, Library Assistant