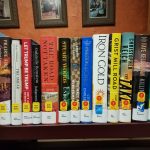 Fake news is in the news and two of this week's books discuss how political operatives use it and what citizens should do to stop it.  In addition, two new biographies – a comprehensive portrait of Laura Ingalls Wilder and an historical account of Edward Lansdale,  the CIA operative who proposed a much different approach to Vietnam than armed aggression – are offered.
City of Endless Night by Douglas Preston
Heading an investigation into the murder of a wealthy tech billionaire's daughter, Lieutenant CDS Vincent D'Agosta teams up with FBI Special Agent A.X.L. Pendergast, only to uncover the work of a serial killer whose agenda threatens an entire city.
Grist Mill Road by Christopher Yates
Years after three friends from an idyllic hamlet ninety miles north of New York City are bound and then separated by a devastating, seemingly senseless crime, the trio revisits their painful pasts in even more traumatizing ways.
Iron Gold by Pierce Brown
Ten years after the revolution that was supposed to bring freedom but instead brought endless war, Darrow and the Rising battle the remaining Gold loyalist forces in order to abolish the color-coded caste system, only to be challenged by dangerous new enemies.
Judgment Detox by Gabrielle Bernstein
The best-selling author of The Universe Has Your Back outlines a proactive, step-by-step program for eliminating judgmental habits and achieving oneness, citing judgment as the source of most discomforts while drawing on principles ranging from yoga and meditation to EFT and metaphysical teachings to explain how to release negative beliefs.
Killing Season by Faye Kellerman
While investigating his sister's death, Ben Vicksburg sees patterns that don't fit and clues similar to other unsolved murders in the evidence, but his obsession leads the police to suspect him and makes him a target of the real killer.
Largesse of the Sea Maiden by Denis Johnson
A collection of stories contemplates subjects ranging from old age and mortality to the unexpected ways the mysteries of the universe manifest, depicting haunted characters trying to atone for the past, remember departed loved ones, or come to terms with lifelong obsessions.
Let Trump be Trump by Corey Lewandowski
A former campaign manager for Donald Trump's successful 2016 presidential run offers an insider's look at the ups and downs on the campaign trail.
The Maze at Windermere by Gregory Blake Smith
A reckless, high-stakes wager between a fading tennis pro and a drunken party guest launches a narrative odyssey that brings three centuries of ambition and adversity full circle.
Prairie Fires: The American Dream of Laura Ingalls Wilder by Caroline Fraser
A comprehensive historical portrait of Laura Ingalls Wilder draws on unpublished manuscripts, letters, diaries and official records to fill in the gaps in Wilder's official story, sharing lesser-known details about her pioneer experiences while challenging popular misconceptions about how her books were ghostwritten.
The Road Not Taken: Edward Lansdale and the American Tragedy in Vietnam by Max Boot
A biography of the CIA operative chronicles his rise and fall as a proponent of a visionary "hearts and minds" diplomacy in Vietnam who was ultimately overruled by the American military bureaucracy, which favored bombs and troop build-ups over winning the people's trust.
Smear: How Shady Political Operatives and Fake News Control What You See, What You Think, and How You Vote by Sharyl Attkisson
The veteran journalist and best-selling author of Stonewalled exposes the practices of opposition research to reveal how political leaders use their influence to shape public opinion, connecting popular misconceptions to strategic smear campaigns that have influenced voters.
The Take by Christopher Reich
Preferring work that allows him to stay under the radar, freelance industrial spy Simon Riske reluctantly takes a high-profile job from the CIA involving a gangster's theft of millions from a visiting Saudi prince and a stolen letter containing highly sensitive information.
Together We Rise by Conde Nast Publications
In celebration of the one-year anniversary of Women's March, this full-color book offers an unprecedented, front-row seat to one of the most galvanizing movements in American history, with exclusive interviews with Women's March organizers, never-before-seen photographs, and essays by feminist activists.
The Truth Matters: A Citizen's Guide to Separating Facts from Lies and Stopping Fake News in Its Tracks by Bruce Bartlett
An economist, best-selling author, journalist and Capitol Hill veteran offers an accessible guide to assessing the truth in an often unreliable media landscape, sharing tips for reading critically, judging sources, using fact-checking sites, avoiding confirmation bias, and identifying dependable experts.
Unbound by Stuart Woods
Stone is pulled into a lethal game of vengeance when an old buddy, CIA operative-turned film producer Teddy, seeks revenge on a man who recently helped to cover up a crime that was personal to Teddy.
Your Best Year Ever by Michael Hyatt
A former CEO and best-selling author offers a five-step plan to help readers set and achieve goals by overcoming past setbacks, identifying the seven attributes of effective goals, and understanding the role of habits in personal achievement.