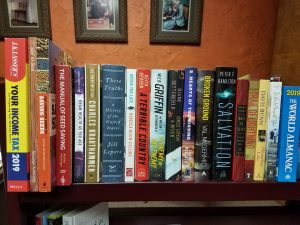 With our smartphones we have almost instant access to a plethora of facts covering almost any topic.  However, there is a lot to be said for a serial publication first published in 1868.  Top news stories of the year, U. S. facts and history, consumer information, sports and science are just a few of the topics covered in a book of just over 1,000 pages.  Useful as a reference and just plain fun to browse, The World Almanac and Book of Facts 2019 is now available along with many other great reads on this week's shelf.
Brain Health as You Age by Steven P. Simmons
This book looks at typical functions and declines of an aging brain, the signs and symptoms of problems, the available treatments, the financial responsibilities, and the factors that determine what kinds of care people might need as they age.
Enemy of My Enemy by W. E. B. Griffin
Special agent James Cronley Jr. uncovers evidence of a stolen fortune in the hands of Odessa while tracking down two escaped Nazi war criminals.
Heart of the Missing by Carol Potenza
Pueblo Police Sergeant Nicky Matthews investigates a personally relevant case involving the serial murders of genetic members of the Fire-Sky tribe by a killer who also deliberately violates spiritual laws.
J. K. Lasser's Your Income Tax 2019 by J. K. Lasser
The latest edition of the classic tax-preparation guide includes usable tax forms, thousands of tips and strategies, up-to-date coverage of the nation's tax laws, filing advice, a quick-reference section highlighting recent changes, links to online forms and tax-preparation help and a quick topic index that helps readers find the right deductions.
The Lost Queen by Signe Pike
The twin sister of the sixth-century druid warrior who would inspire the Merlin legend navigates the violent forces of Christianity and Anglo-Saxon colonization to preserve the Old Ways and fight for her kingdom's survival.
Moondust Lake by Davis Bunn
A disillusioned business executive who would escape from his tyrannical father's shadow and psychotherapist with a tragic past discover unexpected healing, freedom and love in the solitude of a Miramar Bay retreat.
Never Too Late: the Adult S­tu­den­t's Guide ­to Ccol­lege by Becky Klein-Collins
This authoritative resource for adults who are applying to college or hoping to finish earning a degree is filled with a wealth of practical advice for those seeking a richer life and a meaningful place in our rapidly changing economy and world.
Once Upon a River by Diane Setterfield
When the seemingly dead body of a child reanimates hours after arriving at an ancient inn on the Thames, three families try to claim her.
Only to Sleep by Lawrence Osborne
In 1988, 72-year-old Philip Marlowe must come out of retirement to investigate the death of Donald Zinn—supposedly drowned off his yacht, and leaving behind a much younger, and now very rich, wife.
The Point of It All by Charles Krauthammer
Compiled by Charles Krauthammer before his passing, an intimate collection of his most notable works and writings includes never-before-published speeches on his political philosophy and personal history and a major, new essay about the state of global democracy.
Salvation by Peter Hamilton
After an alien spaceship of unknown origin crashes on a planet eighty-nine light years from Earth, a team, using linked jump gates to reach the planet, is sent to inspect its strange cargo, where they discover an alien life form that threatens all human life.
A Terrible Country by Keith Gessen
Returning to 2008 Moscow to care for his grandmother, Andrei reflects on the differences between the homelands of Stalin and Putin before his allegiances are tested by leftist associates.
These Truths by Jill Lepore
Lepore chronicles the origins and rise of today's divided America while investigating whether the nation has delivered on its promises of political equality, natural rights, and the sovereignty of the people.
Who I Am With You by Robin Lee Hatcher
A pregnant woman embittered by the deaths of her husband and daughter finds healing and renewal in her great-grandfather's Bible before opening her heart to a disgraced businessman who would withdraw from the world.
World Almanac and Book of Facts 2019 by Sarah Janssen
A top-selling annual reference provides go-to information under such subjects as politics, economics, science, education, sports and geography, incorporating into the 2019 edition new statistics relevant to the past year's biggest stories.