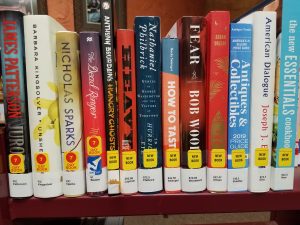 American Dialogue: The Founders and Us by Joseph Ellis
The Pulitzer Prize-winning author of Founding Brothers presents an insightful examination of the relevance of the views of Washington, Jefferson, Madison and Adams to some of the most divisive issues in today's America.
Antique Traders Antiques & Collectibles by Eric Bradley
Filled with expert advice, market and collecting trends, historical information, values and approximately 4,000 color photographs, Antique Trader provides a clear and respected perspective on an incredibly diverse and always fascinating field.
The Dead Ringer: an Agatha Raisin Mystery by M. C. Beaton
Agatha Raisin investigates the murder of an identical twin and co-manager of Thirk Magna's bell-ringer team, a demise that questions the innocence of bullied co-workers and a fed-up lawyer.
Every Breath by Nicholas Sparks
A chance encounter becomes a transcendent turning point for two very different people–the conflicted daughter of an ALS patient and a Sunset Beach newcomer from Zimbabwe who aims to meet his birth father.
Fear: Trump in the White House by Bob Woodward
Woodward draws on interviews with firsthand sources, meeting notes, personal diaries, and other documents to depict life in the Trump White House, focusing on Trump's decision-making process for foreign and domestic policies.
Heavy: An American Memoir by Kiese Laymon
An essayist and novelist explores what the weight of a lifetime of secrets, lies, and deception does to a black body, a black family, and a nation teetering on the brink of moral collapse.
How to Taste: The Curious Cook's Handbook by Becky Selengut
This engaging, approachable and humorous guide to taste and flavor will make you a more skilled and confident home cook and help you feel confident about why and how various components of a dish are used to create balance, harmony, and deliciousness.
In the Hurricane's Eye: The Genius of George Washington and the Victory at Yorktown
by Nathaniel Philbrook
A narrative chronicle of the Battle of the Chesapeake traces the maneuvers by Lafayette and Washington that are credited with America's Revolutionary War victory.
Juror #3 by James Patterson
Struggling young attorney Ruby Bozarth defends a man she passionately believes to be innocent in a first murder trial that could make or break her career, only to discover that the case is affected by a juror's shocking secret.
The Library Book by Susan Orlean
Orlean reopens the unsolved mystery of the most catastrophic library fire in American history, the 1986 Los Angeles Public Library fire, while exploring the crucial role that libraries play in modern American culture.
The New Essentials Cookbook: A Modern Guide by America's Test Kitchen
This cookbook provides information to help home chefs build their cooking skills, learn new techniques, and become more confident in the kitchen through practical lessons combined with increasingly challenging recipes.
Unsheltered by Barbara Kingsolver
The award-winning author of The Poisonwood Bible traces the experiences of a woman whose efforts to protect her family from sudden unemployment are shaped by the story of an ostracized 19th-century science teacher.