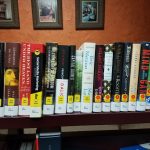 This week's book cart includes some Christmas offerings – a cozy mystery by Donna Andrews and a retelling of the Nutcracker by Gregory Maguire that Kirkus calls a "delightful, mystical, mythical confection" by an author "who likes nothing more than to work at the dark edges of a fairy tale."  Two new historical biographies by award winning authors and an autobiography by a current TV star are also in the line-up along with the latest by some well-known bestselling authors.
The Best Land under Heaven by Michael Wallis
The best-selling author of Route 66 offers an account of the 1846 Donner-Reed Party expedition parsing fact from fiction to reveal the true events surrounding the tragedy, profiling the adventurous, business-savvy and adventurous characters who shaped the group and how various interpersonal factors led to their harrowing experiences.
Capital Gaines: Smart Things I Learned Doing Stupid Stuff by Chip Gaines
Chip Gaines, well known to millions of people as a TV star, renovation expert, bestselling author, husband to Joanna, and father of 4 in Waco, Texas, is also a serial entrepreneur who is always ready for the next challenge, even if it doesn't quite work out as planned.
Crimes of the Father by Thomas Keneally
Sent away from his native Australia to Canada because of his radical preaching against the Vietnam War, apartheid, celibacy and other volatile subjects, psychologist and monk Father Frank Docherty returns home for a lecture only to be pulled into the worlds of a suicide victim and a nun who claim to have been sexually abused by a prominent monsignor.
Endurance: A Year in Space, A Lifetime of Discovery by Scott Kelly
An illustrated memoir by the astronaut who spent a record-breaking year aboard the International Space Station shares candid reminiscences of his voyage, his colorful formative years and the off-planet journeys that shaped his early career.
Garden Renovation by Bobbie Schwartz
The author, drawing on her years of experience as a garden designer, helps readers turn a problem-filled yard into a lush paradise, in a do-it-yourself guide to a complete garden rehab that features design plans, a gallery of before-and-after photos and much more.
Hiddensee: A Tale of the Once and Future Nutcracker by Gregory Maguire
The best-selling author of Wicked presents an imaginative tale rooted in early 19th-century German Romanticism that explores parallels between the origin legend of the famous Nutcracker with the life of Drosselmeier, the toymaker who carves him.
How the Finch Stole Christmas! by Donna Andrews
When her husband organizes a full-scale production of "A Christmas Carol" with a famous veteran actor in the starring role, Meg finds herself navigating unexpected challenges in the star's baggage and enemies.
In the Midst of Winter by Isabel Allende
A minor traffic accident becomes a catalyst for an unexpected bond among a human rights scholar, his Chilean lecturer tenant and an undocumented immigrant from Guatemala, who explore firsthand the difficulties of immigrants and refugees in today's world.
Leonardo Da Vinci by Walter Isaacson
Best-selling biographer Walter Isaacson draws on da Vinci's notebooks as well as new discoveries about his life and work in a narrative portrait that connects the master's art to his science, demonstrating how da Vinci's genius was based on ordinary qualities, including curiosity and imagination.
Martin Luther by Eric Metaxas
Published to coincide with the 500th anniversary of the Reformation, a portrait of the influential religious figure shares insight into the purpose and influence of Martin Luther's famous 95 Theses while exploring his specific role in inspiring modern ideas about faith, virtue and freedom.
Mind Game by Iris Johansen
Searching for a treasure in Scotland, Jane MacGuire experiences vivid dreams of a girl in danger at the same time she reconnects with a volatile ex and is confronted by stunning changes in the lives of those closest to her.
Parting Shot by Linwood Barclay
After a drunk man steals a Porsche and hits and kills a girl in Promise Falls, Cal Weaver is asked to investigate the threats being made to the accused's family.
Photoshop Tips, Tricks & Shortcuts in Easy Steps by Robert Shufflebotham
Photoshop Tips, Tricks & Shortcuts in easy steps will enable anyone to create, edit and produce professional looking images — all in easy steps with little time and effort required for learning.
Principles: Life and Work by Ray Dalio
The founder and co-chairman of the high-performing hedge fund Bridgewater Associates outlines the unconventional principles that he developed over four decades to create unique successes in his personal and professional arenas.
Quick and Dirty by Stuart Woods
When a beautiful new client seeks out Stone Barrington, he becomes entangled in the rarefied and intricate world of the art business, where mistakes are costly and trouble lurks beneath the exclusive veneer.
Reservoir 13 by Jon McGregor
A new novel from celebrated British novelist Jon McGregor—twice longlisted for the Man Booker Prize—Reservoir 13 tells the story of a whole English village haunted by one family's loss.
River of Consciousness by Oliver Sacks
The award-winning neurologist and author of The Man Who Mistook His Wife for a Hat presents a collection of essays reflecting his passionate engagement with compelling and seminal ideas of human endeavor, from evolution and creativity to memory and consciousness.
The Rooster Bar by John Grisham
Three students who have borrowed heavily to attend a third-rate law school realize they have been caught in a scam when they discover that the school's owner also owns a bank specializing in student loans, and plot to expose the scam.
Thin Light of Freedom by Edward Ayers
A ground-level narrative by the award-winning author of In the Presence of Mine Enemies traces the progress of emancipation during the American Civil War, drawing on personal correspondences to document conflicts in Virginia's Great Valley and the pivotal contributions of free black soldiers who served with the U.S. Colored Troops.