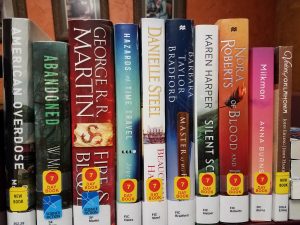 Current topics are on this shelf from the causes behind the opioid crisis to current research on medical marijuana, along with the 2018 Booker Prize winner by Anna Burns and a spin-off of George R. R. Martin's Game of Thrones series.
Abandoned by W. Michael Gear
A sci-fi action adventure, set on Donovan, a treacherous alien planet where corporate threats and dangerous creatures imperil the lives of the planet's colonists.
American Overdose by Chris McGreal
A reporter for The Guardian describes how the current opioid crisis was driven by greed, incompetence and indifference and exposes Big Pharma's control of the health care system and the how the FDA was duped into pushing painkillers.
Beauchamp Hall by Danielle Steel
Seeking solace from her unfulfilled dreams in a beloved British television series, Winnie impulsively departs for England in the aftermath of two losses and rediscovers herself amid the dramas and personalities of the show's production set.
Fire & Blood by George R. R. Martin
The first volume of a definitive two-part history of the Targaryens in Westeros is set centuries before the events of A Game of Thrones and answers key questions about the dynasty's origins, conflicts and relationships with dragons.
Hazards of Time Travel by Joyce Carol Oates
A recklessly idealistic girl tests the limits of her oppressively controlled, dystopian world and is punished by being sent back in time to Wainscotia, Wisconsin, eighty years in the past, only to fall fatefully in love with a fellow exile.
Marijuana: A Reference Handbook by David Newton
This single-volume resource provides sound, up-to-date information and authoritative resources for research on the controversial topics of the use of marijuana for medical and recreational purposes and the effects of marijuana use on society.
Master of His Fate by Barbara Taylor Bradford
A charismatic and ambitious businessman in Victorian England faces the tragic ruin of everything he has worked to achieve before a royal summons gives him a chance to prove his talents.
Milkman by Anna Burns
In Northern Ireland during the Troubles of the 1970s, an unnamed narrator finds herself targeted by a high-ranking dissident known as Milkman.
Of Blood and Bone by Nora Roberts
Knowing she will have to reveal her identity as The One, Fallon Swift trains under a centuries-old mentor to hone her magical and fighting abilities to defend their world from violent raiders.
Silent Scream by Karen Harper
Someone is watching–someone who really doesn't want Claire digging into the past or Nick making connections to a current, violent murder case he's investigating.