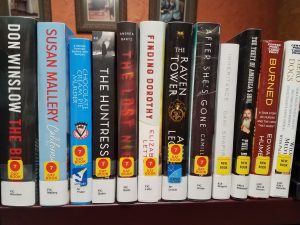 Are you looking for a dose of adrenaline, a little romance, a cozy mystery, or a fantasy?  Look no further than this week's new books!
After She's Gone by Camilla Grebe
An amnesia-stricken psychological profiler struggling to recall the details of the case she had been investigating and a teenage boy with a closely guarded secret are brought together by a murder and the race to stop the killer from striking again.
The Border by Don Winslow
Promoted by the DEA after a crucial victory, Art Keller is targeted by the power-hungry traffickers behind an American heroin epidemic.
California Girls by Susan Mallery
Three sisters, after getting dumped in the same week, set out to help each other start over and rebuild their lives.
Chocolate Cream Pie Murder by Joanne Fluke
The filming of a television special at brokenhearted Hannah Swensen's bakery is complicated by her shifty ex, an intrusive gang of bodyguards, and an untimely murder that compels her alliance with an old flame.
Finding Dorothy by Elizabeth Letts
This richly imagined novel tells the story behind The Wonderful Wizard of Oz, the book that inspired the iconic film, through the eyes of author L. Frank Baum's intrepid wife, Maud.
The Huntress by Kate Quinn
Stranded behind enemy lines, brave bomber pilot Nina Markova becomes the prey of a lethal Nazi murderess known as the Huntress and joins forces with a Nazi hunter and British war correspondent to find her before she finds them.
Inheritance: A Memoir of Genealogy, Paternity, and Love by Dani Shapiro
The author describes her staggering discovery that her father was not her biological father, tracing her efforts to uncover the truth from a half-century of family secrets to reestablish her sense of identity.
Lost Night by Andrea Bartz
A chance discovery of a ten-year-old old video shares disturbing insights into the suicide of her best friend, who may have been murdered on a hazy drunken night, a revelation that compels Lindsay to determine her own role.
Raven Tower by Anne Leckie
The kingdom of Iraden, under the protection of a god known as the Raven, faces unrest and challenges from invaders when a usurper takes over the throne and discovers that the Raven's power is weakening.
The Theft of America's Soul by Phil Robertson
The recognized voice of conservative Christianity in America examines ten lies being used to destroy America's soul and offers ten truths that could turn the country around.