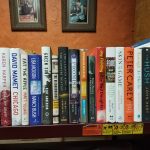 An eclectic mix of suspense, historical fiction, memoir, and advice on healthy eating, raising girls and starting a small-business is found on this week's list, many of which are written by award-winning authors.
Bad Daughter by Joy Fielding
Estranged from her family because of her difficulties getting along with her stepmother, Robin returns home in the aftermath of a brutal home invasion, hoping to mend fences, only to uncover horrible family secrets that may have led to the attack.
The Cadaver King and the Country Dentist: a True Story of Injustice in the American South
by Radley Balko
An award-winning journalist and the director of the Mississippi Innocence Project describe the stories of two innocent men who were wrongly accused and convicted of crimes due largely to the legally condoned failures perpetrated by invalid forensic science colored by race and class.
Chicago by David Mamet
The Oscar-nominated screenwriter of The Untouchables and Pulitzer Prize-winning playwright of Glengarry Glen Ross presents a novel set against a backdrop of the 1920s Chicago mob scene and follows the experiences of a World War I veteran who seeks vigilante justice against the man responsible for killing the woman he loved
Eat the Apple by Matt Young
A combat veteran and writing instructor traces the darkly comic story of his youth and masculinity as they were shaped in an age of continuous war, describing how he joined the Marines as a way to temper his reckless nature before enduring three Iraq deployments.
Enough as She Is: How to Help Girls Move Beyond Impossible Standards of Success to Live Healthy, Happy, and Fulfilling Lives by Rachel Simmons
The best-selling author of Odd Girl Out counsels today's young women on how to recognize and reject perfectionist messages that lead to self-doubt, unfulfilling relationships and fears of failure, drawing on two decades of research to share practical counsel on healthy risk-taking and finding support.
Food: What the Heck Should I Eat?: the No-Nonsense Guide to Achieving Optimal Weight and Lifelong Health by Mark Hyman
The best-selling author of The Blood Sugar Solution demystifies conflicting dietary advice to explain the crucial role of food in health, examining each food group to reveal what popular opinions have gotten right and wrong so that dieters can make informed choices to lose weight and promote wellness.
Green Sun by Kent Anderson
Moving to 1980s Oakland, California, to join the mostly black community he serves and protects, Vietnam veteran Hanson works diligently to stay honest in spite of the forces of hate and violence that compromise his job.
The Hush by John Hart
Ten years after the disappearance of his twin sister, an event that transformed his life and hometown, Johnny Merrimon struggles to avoid notoriety by moving into the wilderness, a decision that his longtime friend, Jack, fears is subjecting Johnny to malevolent forces.
A Long Way from Home by Peter Carey
The award-winning author of Amnesia finds a speed-loving woman, her car salesman husband and a thrill-seeking quiz-show champion entering a dangerous race that circumnavigates the natural obstacles of 1954 Australia.
Metabolism Revolution by Haylie Pomroy
A 14-day weight-loss program by the celebrity nutrition expert and author of the #1 New York Times best-selling The Fast Metabolism Diet shares recipes and detailed instructions for resetting the metabolism and losing weight in accordance with her "food as medicine" techniques.
The Neighborhood by Mario Vargas Llosa
The Nobel Prize-winning author of The Discreet Hero presents a politically charged detective novel set against a backdrop of the 1990s Peruvian underworld and the corrupt years of Alberto Fujimori's presidency, following two high-society couples as they become embroiled in a disturbing vortex of erotic adventures and politically driven blackmail.
One Last Breath by Lisa Jackson
After surviving a wedding-party bloodbath—and subsequently leaving her husband, Liam Bastian, and his wealthy family for the remote sanctuary of Point Roberts, Washington—Rory Abernathy and her daughter are tracked down by Liam, who is surprised to discover they had a child, and soon they wonder if the wedding killer, who was never caught, is hunting them.
Promise by Gwin Minrose
Barely surviving an F5 tornado that rips through her 1936 Mississippi hometown, an African-American laundress and great-grandmother searches for her family among the catastrophe's survivors while bonding with the traumatized teen daughter of a despised white judge.
Raspberry Danish Murder by Joanne Fluke
Throwing herself into the holiday season in the aftermath of her husband Ross' disappearance, Hannah Swensen investigates the murder of her husband's television-station assistant, who had been driving Ross' car and working from his office at the time of his death.
Shallow Grave by Karen Harper
Volunteering with a support group for children affected by domestic violence, forensic psychologist Claire Britten, aided by partner Nick Markwood, investigates a suspicious death at a wildlife sanctuary, only to be confronted by an attack that is too close to home.
Skin in the Game: Hidden Asymmetries in Daily Life by Nassim Nichols Taleb
From the New York Times best-selling author of The Black Swan comes a new work that challenges many of our long-held beliefs about risk and reward, politics and religion, finance and personal responsibility.
The Small Business Startup Kit: a Step-by-Step Legal Guide by Peri Pakroo
Everything you need to start a business, from creating a solid business plan and selecting a marketable name to business contracts, taxes, and reaching customers online.
Time Pieces: A Dublin Memoir by John Banville
The award-winning author of the Benjamin Black series presents a vibrant, evocative memoir of his life near Dublin, a city that inspired his imagination and literary life and served as a backdrop for the dissatisfactions of adult years shaped by Dublin's cultural, political, architectural and social history.
Winter Sisters by Robin Oliveira
When the two young daughters of friends killed in a blizzard in 1879 vanish without a trace, former Civil War surgeon Mary Sutter launches a rescue effort that is challenged by a community that believes there is no hope.