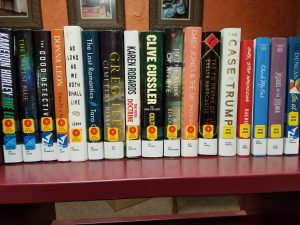 There are many good reads here and we are not fooling!
The 7 ½ Deaths of Evelyn Hardcastle by Stuart Turton
Doomed to repeat the same day over and over, Aiden Bishop must solve the murder of Evelyn Hardcastle in order to escape the curse in a world filled with enemies where nothing and no one are quite what they seem.
As Long as We Both Shall Live by Joann Chaney
When Marie Evans falls off a cliff while hiking with her husband Matt, Detectives Loren and Spengler have doubts that it was an accident, especially after they uncover the suspicious death of Matt's first wife.
The Case for Trump by Victor Davis Hanson
Historian and political commentator Victor Davis Hanson explains how a celebrity businessman with no political or military experience triumphed over sixteen well-qualified Republican rivals, a Democrat with a quarter-billion-dollar war chest, and a hostile media and Washington establishment to become president of the United States
Celtic Empire by Clive Cussler
The murders of a U.N. team, a deadly collision in the Detroit waterways and an attack on the Nile are linked to the ancient story of a fugitive Egyptian princess.
Cemetery Road by Greg Iles
As a journalist, Marshall McEwan knows all too well how the corrosive power of money and politics can sabotage investigations, but as he investigates a murder in his hometown he uncovers a web of criminal schemes that undergird the town's recent success.
Daisy Jones & the Six by Taylor Jenkins Reid
Two rising 70s rock-and-roll artists are catapulted into stardom when a producer puts them together, a decision that is complicated by a pregnancy and the seductions of fame.
The Deepest Blue: Tales of Renthia by Sarah Beth Durst
Mayara, a fearless oyster diver on the islands of Belene, reveals a dangerous secret to save her loved ones, and is banished to a terrifying place.
The Fifth Doctrine by Karen Robards
Authorities finally get the jump on master manipulator Bianca St. Ives, but instead of turning her in they offer her freedom if she agrees to run one last mission—the kind she might never return from.
Girl, Stop Apologizing by Rachel Hollis
Bestselling author of Girl, Wash Your Face and founder of TheChicSite.com Rachel Hollis urges women to stop apologizing for their desires, hopes, and dreams and instead to go after them with passion and confidence.
The Good Detective by John McMahon
Struggling with his professional detachment after the death of his wife and son, once-promising detective P. T. Marsh is implicated in the death of an abusive man who is subsequently linked to a hate killing.
In the Blink of an Eye by Jesse Blackadder
Moving from chilly Tasmania to subtropical Murwillumbah in New South Wales, the Brennan family is placed under suspicion in the wake of a devastating tragedy that shatters their senses of normalcy.
The Last Romantics by Tara Conklin
When the renowned poet Fiona Skinner is asked about the inspiration behind her iconic work, The Love Poem, she tells her audience a story about her family and a betrayal that reverberates through time.
The Light Brigade by Kameron Hurley
From the Hugo Award­­–winning author of The Stars Are Legion comes a brand-new science fiction thriller about a futuristic war during which soldiers are broken down into light in order to get them to the front lines on Mars.
Unto Us a Son is Given by Donna Leon
When an elderly family friend is urged to bequeath his fortune to a specific heir before suddenly dropping dead, Commissario Guido Brunetti untangles a disturbing mystery from the victim's past.