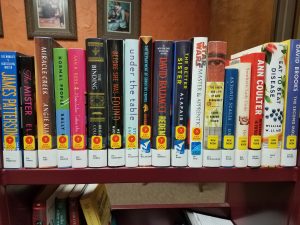 There's nothing better than curling up in your favorite chair with a good book on a rainy night…or stretched out on a beach towel on a sunny day.  Check these out!
13-Minute Murder by James Patterson
An elite assassin takes a last job before retirement only to find himself in a cat-and-mouse game opposite the person responsible for his wife's disappearance, a vigilante who would avenge the murder of her son.
Before She Was Found by Heather Gudenkauf
The Edgar Award-nominated author of The Weight of Silence presents a high-suspense thriller involving three young girlfriends, a dark obsession and a chilling crime that shakes up a quiet Iowa community.
Better Sister by Alafair Burke
When a prominent Manhattan lawyer is murdered, two estranged sisters–one the victim's widow, the other his ex-wife–navigate long-standing resentments to uncover devastating family secrets.
The Binding by Bridget Collins
In a magical world where books are repositories of individual lives, a reviled Bookbinder's apprentice crafts elegant memory volumes to help troubled customers before discovering that others in his profession use their skills for dark ends.
Death and Life of Aida Hernandez by Aaron Bobrow-Strain
The author of White Bread traces the story of a Chihuahua rebel hero's daughter and undocumented teen mother who after her deportation from the only home she had ever known fought the U.S. immigration system to reunite with her son.
The Department of Sensitive Crimes by Alexander McCall Smith
Tasked with their Swedish police department's most unusual cases, lead detective Ulf Varg and his colorful associates investigate a bizarre stabbing, a missing imaginary boyfriend, and a haunted spa.
Eat to Beat Disease by William Li
The Harvard-trained founder of the Angiogenesis Foundation and TED Talk presenter of, "Can We Eat to Starve Cancer?" outlines strategies for consuming 200 popular health-bolstering foods to reinforce the body's defense systems and fight disease.
Marvel Encyclopedia by Stan Lee
Essential facts about the expanding Marvel Universe's timeless heroes like Captain America and Spider-Man, the new adventures of iconic teams including Avengers and Guardians of the Galaxy and offers secret histories of villains like Thanos and Kingpin.
Master & Apprentice by Claudia Gray
A first canon Star Wars novel to take place before the events of The Phantom Menace explores Obi-Wan Kenobi's apprenticeship as a young Jedi under Qui-Gon Jinn.
Miracle Creek by Angie Kim
A dramatic murder trial in the aftermath of an experimental medical treatment and a fatal explosion upends a rural Virginia community where personal secrets and private ambitions complicate efforts to uncover what happened.
Miss Julia Takes the Wheel by Ann B. Ross
Miss Julia's efforts to understand mysteries surrounding an unscrupulous new doctor and his painfully shy wife are complicated by Lloyd's first car and a newly divorced LuAnne's makeover in accordance with a new funeral home job.
Mister by E. L. James
When tragedy strikes, Maxim Trevelyan unexpectedly inherits his family's title, wealth, and estates, a role he's not prepared for, but his biggest challenge is Alessia Demachi, a woman with a dangerous past.
Normal People by Sally Rooney
The unconventional secret childhood bond between popular Connell and lonely, intensely private Marianne is tested by character reversals in their first year at a Dublin college that render Connell introspective and Marianne social, but self-destructive.
On Faith: Lessons from an American Believer by Antonin Scalia
An inspirational collection of the late Supreme Court Justice's reflections, articles and other writings on faith in modern America shares insights into his own distinctly religious life and the Constitution-protected religious liberties that may be facing challenges.
Redemption by David Baldacci
Confronted by the first murder suspect of his early career while visiting his hometown, FBI detective Amos Decker reexamines startling connections to another crime that make him question if he arrested the wrong man years earlier.
Resistance is Futile by Ann Coulter
A TV pundit defends Trump's policies in the face of what she sees as liberal hypocrisy and exaggeration.
Second Mountain: The Quest for a Moral Life by David Brooks
The best-selling author of The Road to Character presents a thought-provoking exploration of the qualities of a meaningful life, drawing on inspirational examples to offer advice about personal philosophies, a vocation, faith, relationships and community life.
Southern Lady Code by Helen Ellis
The best-selling author of American Housewife presents a riotous collection of essays on the art of living as a "Southern Lady" that explores subjects ranging from marriage and manners to women's health and entertaining.
Under the Table by Stephanie Evanovich
The best-selling author of Big Girl Panties presents a modern adaptation of My Fair Lady in the story of a canny young divorcée who makes over her socially awkward millionaire client, with unexpected results.
Wicked Saints by Emily A. Duncan
A debut novel inspired by the Joan of Arc legend follows the experiences of a peasant girl with a magical heritage who protects her people in a century-long holy war, until a brutal defeat forces her to work with a deadly adversary to stop a mad king.