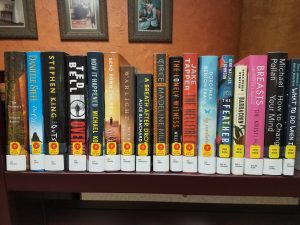 Lots of suspense, a little romance, some true tales of crime and of the horrors of slavery, and the current research being done on psychedelic drugs.  It's all in here.
Barracoon: The Story of the Last "Black Cargo" by Zora Neale Hurston
Presents a never-before-published work from the author of the American classic Their Eyes Were Watching God that illuminates the horror and injustices of slavery as it tells the true story of one of the last known survivors of the Atlantic slave trade—abducted from Africa on the last "Black Cargo" ship to arrive in the United States.
Breasts: The Owner's Manual by Kristi Funk
Funk offers some solid guidelines on how to improve your breast health, lower your risk of getting cancer, optimize your outcomes if you're faced with a diagnosis, and make informed medical choices after treatment.
A Breath After Drowning by Alice Blanchard
A child psychiatrist faces her deepest personal fears after a troubled girl left at the hospital ward seems to know a great deal about her past, including the hazy evidence surrounding her sister's murder sixteen years prior.
By Invitation Only by Dorothea Benton Frank
A young woman from Chicago falls for the owner of a farm on Johns Island, a lush lowcountry paradise off the coast of South Carolina, and trades the bustle of cosmopolitan city life for the vagaries of a small Southern community.
Cast by Danielle Steel
Building a huge following for her magazine column, Kait, a woman who prefers to focus on her career after two failed marriages, teams up with producer Zack to launch a television series with a colorful cast and crew, each marked by private eccentricities, heartaches and secrets.
Circe by Madeline Miller
Follows Circe, the banished witch daughter of Helios, as she hones her powers and interacts with famous mythological beings before a conflict with one of the most vengeful Olympians forces her to choose between the worlds of the gods and mortals.
The Feather Thief by Kirk Wallace Johnson
Johnson documents the astonishing 2009 theft of an invaluable collection of ornithological displays from the British Museum of Natural History by a talented American musician, tracing the author's years-long investigation to track down the culprit and understand his motives, which were possibly linked to an obsession with the Victorian art of salmon fly-tying.
The Hellfire Club by Jake Tapper
After a mysterious fatal car accident kills his predecessor, Congressman Charlie Marder struggles to navigate the dangerous waters of 1950s Washington, D.C., where he finds an underworld of backroom deals, secret societies, and a conspiracy at the highest levels of the government.
How It Happened by Michael Koryta
After a troubled teen, no stranger to the law, admits to her involvement in a brutal murder, Rob Barrett, an FBI investigator and interrogator stakes his reputation on her confession only to have the information she provided prove false.
How to Change Your Mind by Michael Pollan
The best-selling author of The Omnivore's Dilemma presents a groundbreaking investigation into the medical and scientific revolution currently taking place in the field of psychedelic drugs, drawing on a range of experiences to trace the criminalization of such substances as LSD and psychedelic mushrooms and how they may offer treatment options for difficult health challenges.
The Lonely Witness by William Boyle
A former party girl who now helps house-bound seniors in the Gravesend neighborhood of Brooklyn agrees to help a woman whose usual caretaker is missing and ends up witnessing a murder that she does not report and develops a fascination with the killer.
The Outsider by Stephen King
In the aftermath of a boy's brutal murder in Flint City, a local detective is forced to arrest a popular Little League coach who, in spite of an alibi, presents with open-and-shut evidence that is called into question when the suspect's true nature and the realities of the crime come to light.
Overkill by Ted Bell
After his son is kidnapped while on vacation in the Swiss Alps, counterspy Alex Hawke calls on his trusted colleagues and recruits a top hostage rescue team, but an unexpected threat complicates their mission.
The Overstory by Richard Powers
The National Book Award-winning author presents an impassioned novel of activism and natural-world power that is comprised of interlocking fables about nine remarkable strangers who are summoned in different ways by trees for an ultimate, brutal stand to save the continent's few remaining acres of virgin forest.
Send Down the Rain by Charles Martin
When Allie loses her second husband to a car accident, traumatized Vietnam War veteran Joseph reemerges from her past in time for them both to find comfort with one another, but a secret from the distant past might stand in the way.
Shakespeare's Landlord by Charlaine Harris
While trying to prove her innocence in the murder of her landlord, Lily Bard, karate student and cleaning service proprietor, finds plenty of skeletons in the closets of Shakespeare, Arkansas.
Warlight by Michael Ondaatje
Years after growing up in the care of a group of mysterious protectors who served in unspecified ways during World War II, a young man endeavors to piece together the truth about his parents and the unconventional education he received.
What to Do When I'm Gone by Suzy Hopkins
A mother-daughter team present a manual of quirky, colorful step-by-step instructions and advice from a mother for her daughter to follow after she is no longer alive to provide it, from choosing a life partner to baking a quiche.