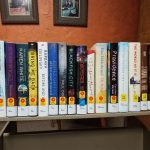 This week's nonfiction presents Lincoln's last murder trial before his presidency, the Flint water crisis, a critical reading of 20th-century Cherokee writers, a journalist's battle to expose racism and class corruption, and some political observations.  On the fiction side, murder and mayhem abound.
All We Ever Wanted by Emily Giffin
When her golden-boy son posts a controversial photograph of a scholarship student online, triggering a local scandal, a wife and mother finds herself sympathizing more with the girl's family than her own.
Before and Again by Barbara Delinsky
A Vermont resort town where many residents are hiding from their pasts is thrown into turmoil by a teen hacker who attracts the Feds and the media, forcing a woman to choose between running again and fighting for what she has rebuilt.
Beneath a Ruthless Sun by Gilbert King
The author of the Pulitzer Prize-winning Devil in the Grove documents the mid-20th-century case of a gentle, developmentally challenged youth who was falsely accused of raping a wealthy woman, in an account that traces the efforts of a crusading journalist to uncover the virulent racism and class corruption that led to his incarceration without a trial.
Between You and Me by Susan Wiggs
A lonely Philadelphia surgeon treats an injured Amish child and becomes attracted to the boy's uncle, a situation that forces her to consider if such a relationship is possible.
Blackfish City by Sam Miller
When a climate-wars project involving the construction of a sophisticated floating city in the Arctic Circle begins to succumb to corruption and crime, the arrival of a woman riding an orca at the side of a polar-bear companion brings together four people to stage strategic acts of resistance.
Brief Cases by Jim Butcher
The best-selling author of the Cinder Spires novels presents an urban fantasy story collection starring Windy City wizard Harry Dresden and featuring an assembly of famous guest editors, in an anthology that includes the original novella, "Zoo Day."
Bring Me Back by B. A. Paris
A decade after a man's wife disappears without a trace, his new fiancée makes a discovery that raises questions about what happened and whether his first wife may still be alive.
Dreams of Falling by Karen White
Larkin Lanier returns to her hometown after learning that her mother has disappeared, but when her mother is found badly injured and unconscious Larkin searches for answers and uncovers secrets from the past.
The Life List of Adrian Mandrick by Chris White
An unprecedented phone call from his mother and the death of a legendary birder sends anesthesiologist Adrian Mandrick into a downward spiral of addiction and triggers an obsession with finding the Ivory-billed Woodpecker.
Lincoln's Last Trial by Dan Abrams
This gripping true story recreates Abraham Lincoln's last murder trial—a case during which he defended the son of a close friend and loyal supporter who was accused of killing Lincoln's mentor, and was forced to form an unholy alliance with a longtime enemy to win.
The Melody by Jim Crace
A grieving musician is attacked in his Mediterranean villa by an intruder that seems neither human nor animal and sets the townspeople abuzz with nearly-forgotten tales of an ancient race of people who legend says lived in the surrounding forest.
The Perfect Couple by Elin Hilderbrand
When a bride-to-be is found dead in the harbor, Chief of Police Ed Kapenash searches for the killer within her own wedding party.
Providence by Caroline Kepnes
Escaping after four years of captivity by a Lovecraft-inspired mad scientist, Jon manifests uncontrollable powers that endanger the woman he loves at the same time a detective puts everything on the line to solve a bizarre string of deaths.
Something in the Water by Catherine Steadman
A successful banker and a rising filmmaker embark on a blissful paradise honeymoon in Bora Bora, where the discovery of a mysterious bag of riches triggers a sequence of events that indelibly marks their marriage and lives.
Stay Hidden by Paul Doiron
When a woman is killed in an apparent hunting accident on an island off the coast of Maine, newly promoted Warden Investigator Mike Bowditch discovers that the victim, a controversial author writing about a local recluse, died of other causes.
Stoking the Fire: Nationhood in Cherokee by Kirby Brown
A critical reading of the work of several twentieth-century Cherokee writers, this book reveals the complicated ways their writings reimagined, enacted, and bore witness to Cherokee nationhood in the absence of a functioning Cherokee state.
There There by Tommy Orange
A novel that grapples with the complex history and identity of Native Americans follows twelve characters, each of whom has private reasons for traveling to the Big Oakland Powwow.
Trump's America by Newt Gingrich
The former speaker of the House shares insider perspectives into the Make America Great Again movement and argues that Trump is keeping his campaign promises in spite of formidable resistance.
What the Eyes Don't See by Mona Hanna-Attisha
A firsthand account of the Flint water crisis traces how one hundred thousand Americans were poisoned by lead in their water supply with the government's awareness, tracing the pediatrician author's efforts to prove exposure in the face of brutal backlash.
The World as It Is by Ben Rhodes
One of Barack Obama's closest aides presents a behind-the-scenes account of his presidency, from the early days of his first campaign to his final hours in the White House, detailing many of the most consequential moments of the Obama administration.