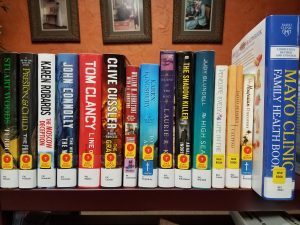 For some readers there is nothing better than a good adventure, where the main character is on some type of mission and meets lots of obstacles and danger along the way.  Two authors on this week's list personify the genre – Clive Cussler and Tom Clancy.  However, you may realize that Tom Clancy died in 2013.  Mike Maden is one of several authors that has continued the Jack Ryan series.  In addition, the titles below include series characters Charlie Parker, Gideon Crew and Stone Barrington.
Calypso by David Sedaris
Personal essays by the best-selling author of Let's Explore Diabetes With Owls and Me Talk Pretty One Day share the author's adventures after buying a vacation house on the Carolina coast and his reflections on middle age and mortality.
Die by the Gun by William Johnstone
After completing a successful cattle drive as the chuckwagon cook, Mac signs up for another one to escape those seeking revenge for a crime he did not commit.
Every Landlord's Legal Guide by Marcia Stewart
A reference for residential landlords shares comprehensive guidelines for saving money and maintaining legal requirements, providing coverage of everything from screening tenants to hiring a property manager.
The Gray Ghost by Clive Cussler
The grandson of a man who was wrongly accused of stealing a recovered Rolls Royce prototype a century earlier hires husband-and-wife team Sam and Remi Fargo to solve the mystery and clear his grandfather's name.
The High Season by Judy Blundell
Forced to rent out her family's seaside Long Island home every summer just so they can afford to keep it, Ruthie goes to extreme lengths to protect the life she loves in the wake of a suddenly estranged marriage, the return of an old flame, and her teen daughter's destructive relationship.
Island of the Mad by Laurie King
When an old friend's aunt fails to return after a supervised outing from an asylum, Sherlock Holmes and Mary Russell investigate.
Life in the Garden by Penelope Lively
A philosophical and poetic memoir by the award-winning author of Moon Tiger explores themes of time and memory as well as the lives of influential writers and her own enduring passions for art, literature and gardening.
Mayo Clinic Family Health by Mayo Clinic
A newly updated 5th edition of the comprehensive health guide features information from thousands of physicians, scientists and researchers to help readers check illness symptoms, understand disease prevention and explore treatment options for family members of every age.
The Moscow Deception by Karon Robards
When a network of assassins target her, Bianca St. Ives learns that a high-risk heist may offer the information she needs to bring down the threat determined to bury her for good.
The Pharaoh Key by Douglas Preston
When his former employer goes missing, Gideon Crew, reeling from his terminal diagnosis, pursues the long-awaited translation of the Phaistos Disc, an ancient tablet that could end or save his life.
Shadow Killer by Arnaldur Indridason
When a man is found murdered, the police focus their attention on the foreign soldiers who are on every street corner in the summer of 1941.
To the Moon and Back by Karen Kingsbury
Struggling to help the smitten son of an Oklahoma City bombing victim find the daughter of another bombing victim, Ashley tries to get her skeptical husband to understand why she feels strongly compelled to get involved.
Tom Clancy Line of Sight by Mike Maden
Orchestrating a surprise for his mother, Jack Ryan Jr. searches for Aida, whose eyesight was restored by his mother years earlier, but when she is abducted in front of him, Jack finds himself pitted against mobsters and paramilitary units.
Turbulence by Stuart Woods
When Stone Barrington encounters a noxious politician while on vacation in Florida, he is unwittingly embroiled in the scheme of some shady associates who seek to cause upheaval in the United States.
The Woman in the Woods by John Connolly
When the body of a woman who apparently died in childbirth is discovered in the Maine woods, private investigator Charlie Parker shadows the police investigation in order to discover the woman's identity and the fate of her baby.