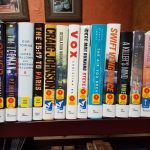 We may be biased, but our top pick for this week is companion to the PBS series, "The Great American Read."  The Book of Books presents all 100 novels with fascinating information about each book, author profiles, a snapshot of the novel's social relevance, film or television adaptations, other books and writings by the author, and little-known facts. Also included are themed articles about banned books, the most influential book illustrators, reading recommendations, the best first-lines in literature, and more.  Highly recommended for all  bibliophiles!
The 15:17 to Paris by Anthony Sadler
Sadler documents the heroic efforts of three American friends who fought back against the terrorists behind the August 2015 attack in Brussels, describing the events from each of their perspectives and the deep unity that made their preventative measures possible.
The Air You Breathe by Frances De Pontes Peebles
In 1930s Brazil, an orphaned kitchen maid and the reckless daughter of a sugar baron bond over their shared passion for music and embark on a volatile friendship marked by their ambitions to escape, their changing fortunes, and unexpected fame.
As the Tide Comes In by Cindy Woodsmall
Following a devastating personal tragedy and a head injury, Tara Abbott flees to St. Simons Island, where her disorientation draws the attention of a group island residents and longtime friends known as the Glynn Girls.
Dead Man Running by Steve Hamilton
In a hunt that will take him across the country and to the edge of his limits, Alex McKnight fights to stop a vicious killer before he can exact his ultimate revenge.
Depth of Winter by Craig Johnson
When Walt Longmire's daughter, Cady, is kidnapped by an international hit man and the head of a vicious drug cartel, Walt heads into the Northern Mexican desert to find her before they can auction her off to his enemies.
Desolation Mountain by William Kent Krueger
Cork and his son, Stephen, investigate a plane crash that has killed a senator, a case that is further complicated by the baffling disappearances of several first responders.
The Fall of Gondolin by J. R. R. Tolkien
The final work of J.R.R. Tolkien's Middle-earth fiction, completing Christopher Tolkien's life-long achievement as the editor and curator of his father's manuscripts.
The Great American Read by PBS
Illustrated with original-manuscript and first-edition covers, a companion to the PBS 2018 summer series reveals America's 100 best-loved novels, profiling each for author stories, social relevance, media adaptations, rejections, and bannings.
The Iceman by P. T. Duetermann
A decorated submarine commander haunted by a violent youth unsettles his crew with the incrementally risky measures he takes to sink Japanese ships in the western Pacific during World War II.
Killer's Mind by Mike Omer
Forensic psychologist Zoe Bentley and Special Agent Tatum Gray must descend into a serial killer's psyche and untangle his twisted fantasies, or more women will die.
The Other Woman by Sandie Jones
A blissful romance between Adam and Emily is challenged by Adam's manipulative mother, who resorts to dire measures to keep all other women out of her son's life.
Our Towns: A 100,000-Mile Journey Into the Heart of America by James Fallows and Deborah Fallows
A portrait of the civil and economic renewal underway in American towns draws on the authors' visits with civic leaders, factory workers, recent immigrants, and young entrepreneurs who are observing and understanding important transitional dynamics and opportunities.
Swift Vengeance by T. Jefferson Parker
Tracking a mysterious killer who has been targeting drone operators, PI Roland Ford strikes an uneasy alliance with an FBI agent who is haunted by Bureau failures.
Vox by Christina Dalcher
Marginalized in a near-future America where the government limits women to no more than one hundred spoken words daily before outlawing women's education and employment altogether, a former doctor resolves to be heard for the sake of her daughter.