A marionette is a puppet that is moved by pulling wires or strings.  It is a small-scale, usually wooden, figure with jointed limbs.  Marionettes are operated with the puppeteer hidden or revealed to an audience by using a vertical or horizontal control bar in different forms of theatres or entertainment venues. They have also been used in films and on television. The attachment of the strings varies according to its character or purpose.
In French, marionette means "little Mary". In France, during the Middle Ages, string puppets were often used to depict biblical events, with the Virgin Mary being a popular character.  In the 18th century, operas were specifically composed for marionettes.  There was a renaissance of marionette theaters during the late 19th and early 20th centuries.  In the United States, several groups have established permanent theaters or touring programs dedicated to spotlighting marionette performances.
The Elsenpeter Marionette troupe has entertained the young and young-at-heart for over 139 years.  Starting over one hundred years ago in Germany, the Elsenpeter family  have handed down their family art form through four generations. Richard Elsenpeter describes his form of puppetry as the "old world" style. This painstaking process of creating each individual puppet by hand is rarely seen in America today.
Miami Public Library Children's Department will be bringing the Elsenpeter Marionettes to the Coleman Theatre, November 18th at 10:00 a.m.  This program is free and open to the public.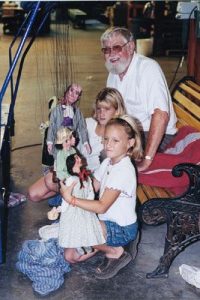 Each program is specially written for marionette theater.  Mr. Elsenpeter writes, produces, and carves puppet characters for an entirely new program each year. Richard's skillful manipulation of the wooden marionettes transforms them into living characters with personalities.  "The Adventures of Tom Sawyer"  is the 2017 selection currently touring the Midwest.  This classic story of friendship appeals to children and adults alike.