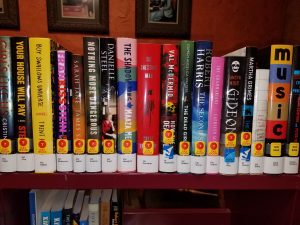 First shelf of new books for 2020!
Boy Swallows Universe by Trent Dalton
Exiled far from the rest of the world in Darra, Australia, twelve-year-old Eli is just trying to follow his heart, learn what it takes to be a good man, and train for a glamorous career in journalism while life insists on throwing obstacles in his path.
The Chestnut Man by Soren Sveistrup
A psychopath is terrorizing Copenhagen and his calling card is a "chestnut man"–a handmade doll made of matchsticks and two chestnuts–which he leaves at each bloody crime scene.
Crime in Progress  by Glenn Simpson
The never-before-told inside story of the high-stakes, four-year-long investigation into Donald Trump's Russia ties.
The Dead Girls Club by Damien Angelica Walters
A supernatural thriller about two young girls, a scary story that becomes far too real, and the tragic–and terrifying–consequences that follow one of them into adulthood.
Five Days Gone by Laura Cumming
Cumming shares the riveting story of her mother's mysterious kidnapping as a toddler in a small English coastal village–and how that event reverberated through her own family and her art for decades.
Frankissstein by Jeanette Winterson
In Brexit Britain, a young transgender doctor called Ry is falling in love with Victor Stein, a celebrated professor leading the public debate around AI and carrying out some experiments of his own in a vast underground network of tunnels.
Gideon the Ninth by Tamsyn Muir
Brought up by unfriendly, ossifying nuns, ancient retainers, and countless skeletons, Gideon is ready to abandon a life of servitude and an afterlife as a reanimated corpse.
Girls Like Us by Cristina Alger
Worlds collide when an FBI agent investigates a string of grisly murders on Long Island that raises the impossible question: What happens when the primary suspect is your father?
The Grammarians by Cathleen Schine
Laurel and Daphne Wolfe, identical, inseparable redheaded twins share an obsession with words, even speaking a secret "twin" tongue of their own as toddlers, but their fraying twinship shreds completely when the sisters go to war, absurdly but passionately, over custody of their most prized family heirloom: Merriam Webster's New International Dictionary, Second Edition.
How the Dead Speak by Val McDermid
Tony Hill and Carol Jordan are reunited after a mysterious skeleton turns up on the grounds of an old orphanage.
Music: A Subversive History by Ted Gioia
Gioia tells a four-thousand-year history of music as a global source of power, change, and upheaval,  showing how social outcasts have repeatedly become trailblazers of musical expression: slaves and their descendants, for instance, have repeatedly reinvented music, from ancient times all the way to the jazz, reggae, and hip-hop sounds of the current day.
Nothing More Dangerous by Allen Eskens
In a small Southern town where loyalty to family and to "your people" carries the weight of a sacred oath, defying those unspoken rules can be a deadly proposition.
The Old Success by Martha Grimes
An unlikely trio of detectives teams up to solve three puzzling murders that span three counties across England.
Sarah Jane by James Sallis
Sarah Jane's life takes an unexpected turn when she is named the de facto sheriff of a rural town, investigating the mysterious disappearance of the sheriff whose shoes she's filling–and the even more mysterious realities of the life he was hiding from his own colleagues and closest friends.
The Second Sleep by Robert Harris
A young priest, Christopher Fairfax, arrives in a remote Exmoor village to conduct the funeral of his predecessor and he wonders if ancient artefacts collected by the old parson–coins, fragments of glass, human bones–lead to his death.
The Shadow King by Maaza Mengiste
With the threat of Mussolini's army looming, recently orphaned Hirut struggles to adapt to her new life as a maid to Kidane, an officer in Emperor Haile Selassie's army, but his initial kindness to Hirut shifts into cruelty when she resists his advances.
Spy by Danielle Steel
A young woman is caught up in a dangerous double life on behalf of her country during World War II.
Your House Will Pay by Steph Cha
A powerful and taut novel about racial tensions in Los Angeles, following two families–one Korean-American, one African-American–grappling with the effects of a decades-old crime.